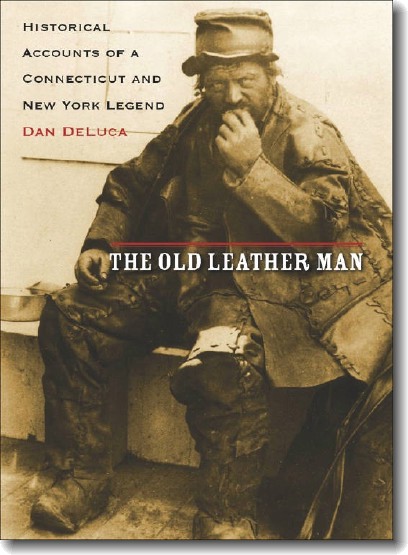 The Connecticut State Museum of Natural History presents "The Old Leather Man: Tale of a Lonesome Wanderer," a lecture and book signing by author Dan Deluca of Meriden.
The lecture will be held in the Connecticut State Museum of Natural History on the UConn Storrs Campus, Saturday, Nov. 12, 3 p.m.
Residents of many parts of Connecticut and eastern New York have long heard stories of the Old Leather Man, a mysterious figure who appeared in 1856 wandering the country roads and sleeping in caves, huts, and lean-to shelters.
Dressed in an outfit he fashioned from scraps of leather, in about 1883 the man who has become a legend began traveling in a clockwise circuit – a regular route of 365 miles every 34 days.
He continued this pattern until his death in 1889 and visited Brewster, North Salem, Ridgefield, Branchville, Georgetown, Redding, Danbury, Bridgewater, Waterbury, Forestville, New Britain, Meriden, Saybrook, Guilford, Branford, New Haven, Stratford, Bridgeport, Norwalk, New Canaan, Stamford, Greenwich, White Plains, Armonk, Chappaqua, Ossining, Mount Kisco, Bedford Hills, Pound Ridge, Yorktown, Peekskill, and Somers.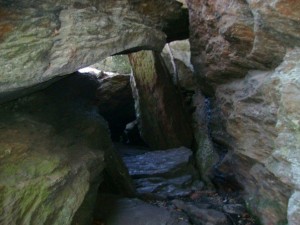 Deluca, a genealogist, historian, and retired teacher, has compiled a trove of information over more than 20 years regarding this legendary person, who rests in Sparta Cemetery in Ossining, New York. Deluca may discuss the intriguing results of a recent quest to gather and test DNA from any remains of the Leatherman – done in conjunction with Dr. Nick Bellantoni, Connecticut state archaeologist, and other officials. (An NPR interview that features Deluca is linked here.)

One misty, moisty, morning,
When cloudy was the weather,
I chanced to meet an old man
Clad all in leather
Clad all in leather,
With a cap beneath his chin.
How do you do?
And how do you do?
And how do you do again?
– Nursery rhyme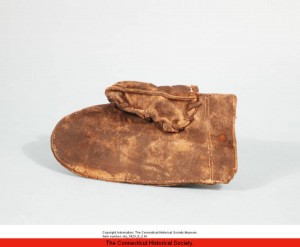 In his book, The Old Leather Man: Historical Accounts of a Connecticut and New York Legend, DeLuca has collected newspaper articles, photographs, and other documents that chronicle the life of this mysterious traveler. Published by Garnet Books/Wesleyan University Press, the 232-page volume is lavishly illustrated with 111 images and 26 maps. Cost is $35.
The Middlesex County Historical Society of Connecticut has a pipe used by the Leatherman in its collection.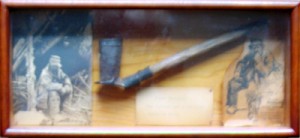 The lecture will feature a short talk about new information on the Leather Man, a 20-minute video, and a question-and-answer session. A book signing will follow.
Today, despite various attempts to discover his true identity, much about the Leather Man remains unknown.
This program is open to adults and children ages 8 and older, who must be accompanied by an adult. The program is free and advanced registration is not required. Visit www.cac.uconn.edu/mnhcurrentcalendar.html or call (860) 486-4460 for more information.
The Connecticut State Museum of Natural History and Connecticut Archaeology Center are part of the College of Liberal Arts and Sciences at UConn.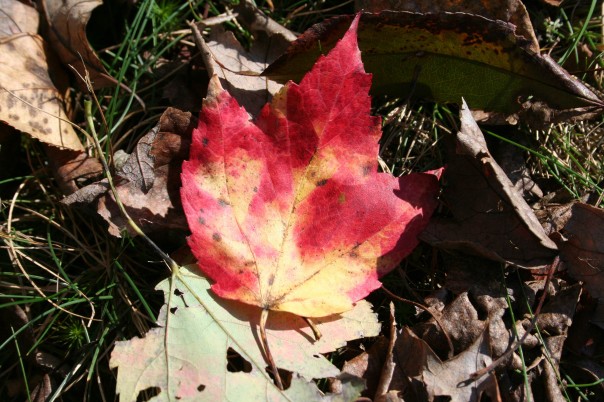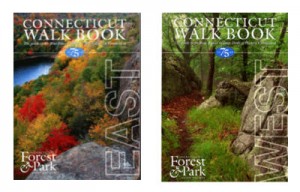 Note: Since autumn is prime hiking season, those interested in getting outside to see the leaves and enjoy the views may want to explore the Watertown Leatherman's "cave" (really a rock shelter), located near a section of the blue-blazed hiking trail listed as one of the three "Waterbury area trails" in Connecticut Walk Book West.
The notable two-volume (divided into east and west locations) guide to walks and trails in the state is compiled and published by the Connecticut Forest & Park Association, whose membership blazed the original trails and have maintained and shared them since the founding of the group in 1895.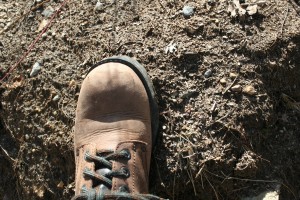 Other locations reputedly visited by the Leatherman, along with trail lore, geology, detailed maps and mileage are included in the guides, which are divided by the Metacomet and Mattabesett trail systems. For a memorable outing, pair the book by Deluca with a walk to one of the caves or shelters used by the Leatherman – or follow his trek to share the history of an intriguing person who has become a legend.