"Knowing is not enough; we must apply. Wishing is not enough; we must do." – Johann Wolfgang Von Goethe
Ekonk is a word unique to Connecticut. The word is Native American, of course – "Ekonk" is a Mohegan term for "long hill or ridge in the town" – or maybe Nipmuk for "bend" depends on which source is consulted. (Could be that neither is the true meaning.)
Connecticut is from an indigenous term, too. Two cultures came together on a non-traditional Thanksgiving family trip to the original landing site of Pilgrims, the wild landscape of Cape Cod. That is where the wandering people from Europe – hungry and in need of fresh water – really landed first in a New World (to them), although the bountiful continent was already inhabited for generations by people yet unknown to the newcomers.
According to the National Park Service Cape Cod National Seashore (a great resource for pre-trip information): "On November 11, 1620, the Pilgrims got their first look at the New World when they saw Cape Cod. The Pilgrim group had permission to settle in the northern part of Virginia (which in those days reached to present day New York). When the Mayflower turned south, however, it ran into rough, shallow waters and became in danger of tipping over and sinking. It was quickly decided to head back to the deeper, safer waters off the tip of Cape Cod. But now a decision had to be made. Was this where they should stay?
"The next thing that happened was very important indeed. Since Cape Cod was outside the area they were supposed to settle in, the group agreed to write a 'compact' or 'self-governing' agreement. This agreement became known as the Mayflower Compact.
"After signing the Mayflower Compact, the Pilgrims decided to look over Cape Cod as a place to settle. They sent out three separate "discovery" expeditions to see what the area had to offer. During these 'discoveries' they found their first fresh water, took some Indian corn, and almost had a battle (called the First Encounter) with some Native Americans. Cape Cod had many good features, but after a month of searching, it was decided to finally settle in Plymouth."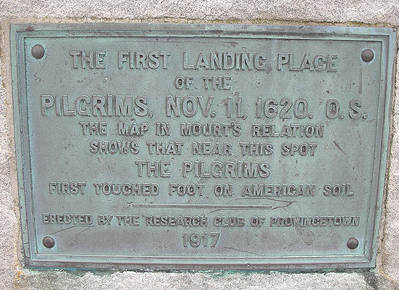 Note: To those interested in more details about the discovery of fresh drinking water at a spring, the plundering of corn stores they found at Corn Hill, or the first encounter with the inhabitants of this land (First Encounter Beach), stop in a bookstore on the Cape or ask about a local guide. Maps will also aid in visits to the original sites. Reading snippets of text aloud will help set the scene and add to your own explorations. During our own visit, the weather was harsh and bleak, which added to the experience in my opinion. (Dress warm and in layers; weather is serious business in winter on the Cape.) After a day spent outdoors, it was slim pickings for food choices as many eateries were closed for the season. No matter.
Feeling hungry and cold to the bone, the warmth of a motel room and hot food at day's end were reasons enough to give thanks. As we celebrated a memorable (and unconventional) Thanksgiving, believe it that we could imagine most vividly those intrepid souls who crossed the ocean and landed on the same shores way back in 1620.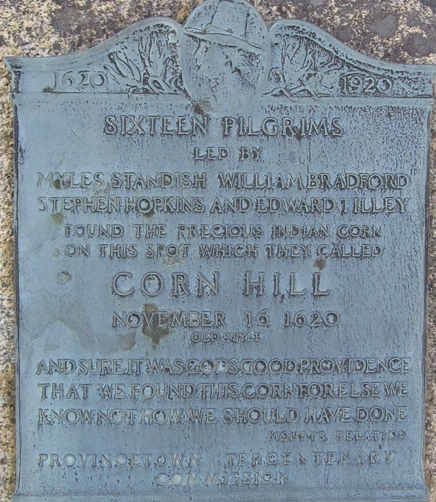 An exploration to Corn Hill, First Encounter Beach, and other sites over a blasting cold Thanksgiving weekend years ago made the past truly come to life. Though not visible, the interactions of humans from two cultures remain for those with imagination. Go there in November and it's much more vivid and real.
"An ear of flint corn held in the hand of (the late) Whit Davis is a teaching tool and leads one on a journey into human history. Indigenous people in Mesoamerica domesticated corn, a grass which is also a grain, in prehistoric times."
Full story linked here and also at the image.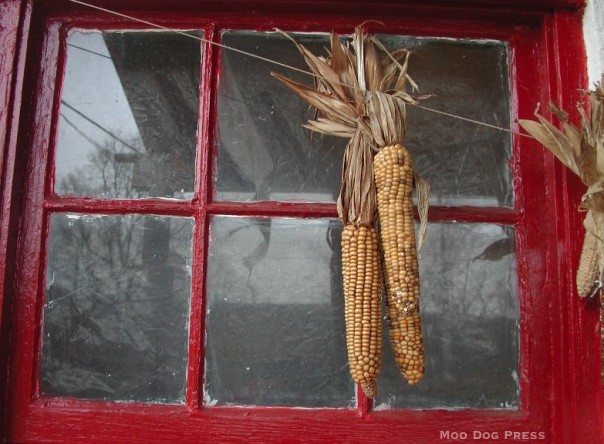 "The flint corn cultivars that have large proportions of kernels with hues outside the yellow range are primarily used ornamentally, notably as part of Thanksgiving decorations in the United States. They are often called either "ornamental corn" or "Indian corn", although each of those names has other meanings as well. These varieties can also be popped and eaten as pop corn."
Editor's note: For wonderful history, stories, local lore about Cape Cod, may we suggest Don Wilding's Cape Cod? From his site: "An award-winning writer and editor for Massachusetts newspapers for 30 years, Don pens the popular 'Shore Lore' history column for the Cape Codder newspaper of Orleans, and is the author of two books, Henry Beston's Cape Cod: How 'The Outermost House' Inspired a National Seashore, and A Brief History of Eastham: On the Outer Beach of Cape Cod, from The History Press." Also, check out his Facebook feed. For visiting in off season, the Cape Cod Chamber of Commerce Convention & Visitors Bureau can be a useful resource. Having driven there on a whim in pre-Internet days, maps and a AAA guidebook were invaluable for finding places to explore, but instinct guided the journey. (It's a personal choice to visit in off-season early winter when the fury of the weather can daunt most but not all other humans.)
For exploring the history of indigenous people in the Northeast, visit this informative and interesting listing of tribes link to University of Massachusetts. (By the way, there is no other Ekonk anywhere in the USA.)