Ag • Let's Go
Winterfest in Hartford opens Nov. 24, in Bushnell Park. Free skating lessons, free skate rentals. No admission. Here's the link to the official site for this marvelous family fun outing. This event is produced by The iQuilt Partnership.
November is Native American Heritage month. In what is now known as Connecticut, there are many, many sites and evidence of people here long before Europeans came to the continent.
Calling all commercial farmers and ranchers – NCAT is offering $20 for spending 20 minutes taking a survey of needs and attitudes about crop insurance. You can take the confidential survey at www.ncat.org/cropinsurance using any computer, smart phone, or other mobile device to influence NCAT recommendations to the U.S. Department of Agriculture (USDA) about crop insurance for diversified, organic, and specialty crop producers. They need to hear from all kinds of farmers and ranchers in all parts of the country. The deadline for taking the survey has been extended to Nov. 22, 2017. For more information e-mail cropinsurance@ncat.org.
Learn to identify trees by the patterning of their bark and growth habits – Bark: A Field Guide to Trees of the Northeast by Michael Wojtech, is a book that makes this a language to learn. Join Master Naturalist apprentice Ari Patterson for an introduction to an innovative approach to tree identification, Saturday, Nov. 25, 1 to 2:30 p.m. at James L. Goodwin Conservation Center, Hampton, Conn. For information call Jasper Sha at (860) 455-9534. Ari Patterson is a high school senior who coaches a Connecticut Envirothon team and is passionate about forestry and soils, sustainability. She will soon enter college to study environmental science and policy.
Own a business or farm and want to be listed in the 2018 CT-NOFA Farm & Food Guide? Current members are reminded to update their Farm & Food Guide listing via an online form. Farmers Pledge Farms, visit http://ctnofa.org/farmerspledge.html; mail that form ASAP so all information is current for the 2018 season. Questions? Email farmandfoodguide@ctnofa.org or call (203) 308-2584.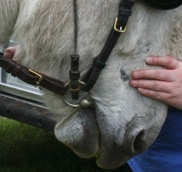 In December, farmers and ranchers across the nation will start receiving the 2017 Census of Agriculture. Producers can mail in their completed census form, or respond online via the improved web questionnaire. Conducted once every five years, the census of agriculture is a complete count of all U.S. farms, ranches, and those who operate them. It is the only source of uniform, comprehensive, and impartial agriculture data for every state and county in the country. Farmers and ranchers, trade associations, government, extension educators, researchers, and many others rely on census of agriculture data when making decisions that shape American agriculture – from creating and funding farm programs to boosting services for communities and the industry. The census of agriculture is a producer's voice, future, and opportunity. For more information about the 2017 Census of Agriculture call (800) 727-9540.
On Dec. 14, author Eric Lehman, one of this year's finalists for the Connecticut Book Award, will speak about his book Homegrown Terror: Benedict Arnold and the Burning of New London. Arnold's connections to Middletown both before and after his betrayal will be discussed. Sponsored by the Middlesex County Historical Society, the program is free and open to the public. Russell Library, 123 Broad St., Middletown, is handicap accessible. For more information call (860) 346-0746 or visit https://mchsct.org.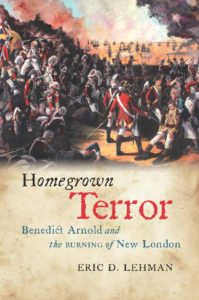 In September 1781, Connecticut native Benedict Arnold and a force of 1,600 British soldiers and loyalists took Fort Griswold and burnt New London to the ground. The brutality of the invasion galvanized the new nation, and "Remember New London!" would become a rallying cry for troops under General Lafayette. On December 14 at 7 p.m. in the Hubbard Room at Russell Library, Eric D. Lehman, author of Homegrown Terror: Benedict Arnold and the Burning of New London, will chronicle the events leading up to the attack and highlight this key transformation in Arnold—the point where he went from betraying his comrades to massacring his neighbors and destroying their homes. His talk will also touch on the connections Arnold had with Middletown during the war, both before and after his betrayal.
Lehman teaches literature and creative writing at the University of Bridgeport. In addition to his contributions to numerous newspapers, journals, and magazines, Lehman is the author of 12 books of fiction, travel, and history, including the Insider's Guide to Connecticut, A History of Connecticut Food, and Shadows of Paris, for which he was a 2017 Connecticut Book Award Finalist. He will have copies of Homegrown Terror for sale and inscription.
For a serving of robust creativity, serve up a helping of Soul Pancake, an odd and engaging site that invites all humans to "Chew on Life's Big Questions" – and features some pretty exceptional (and offbeat) personalities. There's even a Q&A video between Rainn Wilson, actor and co-creater of Soul Pancake, and "Kid President" (below).
"The world needs you to stop being boring – yeah, you. Boring is easy, everybody can do it. . . . This is life, people. You've got air coming through your nose, you got a heartbeat – that means it is time to do something. . . . What will you create?
"Nothing, if you keep sitting there."
– from A Pep Talk
By the way, there is a very human story and a health aspect behind the persona of Kid President. Here's the link to the official site and the Who We Are page.

"I believe kids can change the world. I also believe grown ups can change the world. It just takes all of us working together." – Kid President
NY State Veterans in Agriculture Conference, Nov. 29, New York State Fairgrounds. Training, networking hosted by Farmer Veteran Coalition NY. Register now to join the Cornell Small Farms Program and the New York Farmer Veteran Coalition, Inc. This event is sponsored by USDA BFRDP, Farm Credit East, and NYSDAM. Contact is Kat McCarthy for information, kmm485@cornell.edu; (607) 255-9911.
New England Grows trade show and expo Nov. 29 to Dec. 1, Boston Convention & Exhibition Center. More information at www.newenglandgrows.org.
Greenhouse Vegetable Production in Hydroponics and Soil-less Systems: A program for experienced growers on Dec. 9, co-sponsored by The Connecticut Department of Agriculture via the Specialty Crop Block Grant Project. Held at 1395 Storrs Road, Storrs CT; contact Rosa Raudales (860) 486-6043, rosa.raudales@uconn.edu; Leanne Pundt (860) 626-6855, leanne.pundt@uconn.edu.
New Haven Burying Ground/Grove Street Cemetery, Corner of Grove and Prospect, New Haven. A National Historic Landmark, the cemetery was established in 1796, and is the first chartered burial ground in the country. Eminent people buried there include Noah Webster, Gen. David Humphreys, Roger Sherman, Charles Goodyear, Walter Camp and Bart Giamatti. A self-guided touring map is available from the cemetery office, 7 a.m.- 4p.m., daily. Free one-hour walking tours May through November, Saturday 11 a.m.; Sunday, noon. Depart from the Egyptian Revival gates on Grove at High St.; for information call (203) 389-5403, or visit www.grovestreetcemetery.org.
Meriden Historical Society collections include a wide array of beautiful and interesting objects; here is a feature story we did after visiting during a statewide open house event earlier this year. Also related, "Seeing the Past: Stories on the Trail of a Yankee Millwright" by James T. Powers brings to life the industrial past of Connecticut and how it all ties to local history. Powers recently did a presentation in Meriden; he also authored a book about the layers of history at the Dudley Farm in North Guilford, CT.

"Force has no place where there is need of skill." – Herodotus