Editor's note: Seeing the remnants of a curved board fence along with an unusual barn in Middletown, Connecticut, led to a rare and wonderful privilege – listening to a life well lived and stories about racing, a long-lasting marriage and the richness of family. Stories worth remembering and sharing about life.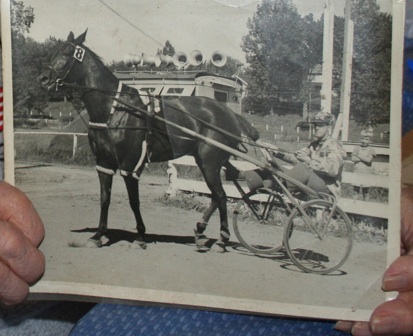 Clayton "Clayt" Mantie of Middletown can recall being a boy of 15 and helping his father, a blacksmith at Sage Park (where the high school is now) Windsor.
"That's where I got into horses, when I started helping him," he recalled. "He would shoe the horses and I would go to the barn and pick up a horse, bring it to blacksmith shop, later bring it back to the barn.
"My father would make the horseshoes," he recalled. "Trotting horses are shod in many different ways. He'd take a bar of stock and put a die in the anvil and pound that to shape it. Then he would put a crease in it or make it half round. Some pacers took a full crease shoe on the front feet, and a half crease shoe on the back. For a long stride, you'd square the toe, so his reach would land a little shorter. Shoes would alter the gait."

He owned the string of trotting horses and moved his stable and crew to Middletown after purchasing property that also had a track.
"When you turn onto Crystal Lake Road, there's a big house on the left corner, and just past it, a barn. A shed used to be right along the road, that's all that was there when Jim bought that land."
James "Jim" H. Porteous, founder of the Valley Oil Company, built a show barn to train his horses and named his farm Valoco Stables, after his company.
Inside the show barn was a small apartment.
"It had a sitting room in the middle and a bedroom," he said. "I stayed there until I went in the service, in 1942."
Royal Napoleon was his stallion, a deep chestnut of a Standardbred.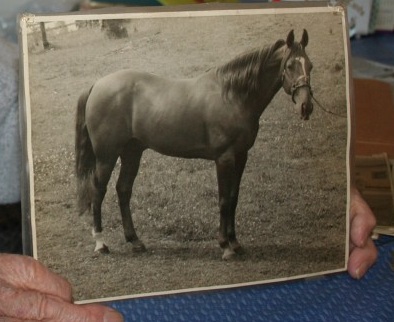 "Napoleon was a good horse, and he had a sense of humor. Before a free-for-all race for the fastest horses on the fair circuit, they'd call everyone out for a walk past the grandstand, to introduce the horses. And Napoleon would go along like he was half asleep, just poking along. But when he got in front of people, his head would snap up, he'd prance, rear a little, he loved the crowds."
Mantie moved to Middletown in 1938. He worked his way to groom, apprentice trainer, then trainer and driver.
"A sulky was a little two-wheeled gig, very light with two bicycle tires and stirrups up on the side. Back then it was a living, and I loved it."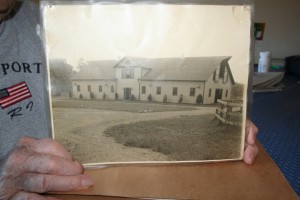 "The barn was absolutely beautiful, picture perfect. The floors were oiled, the bars between stalls were painted black. The railing inside and outside the track and the paddock fences were whitewashed every year, even the bases of the trees leading in to the farm were whitewashed.
"The barn was painted yellow and orange, those was the official colors of the independent oil companies at the time."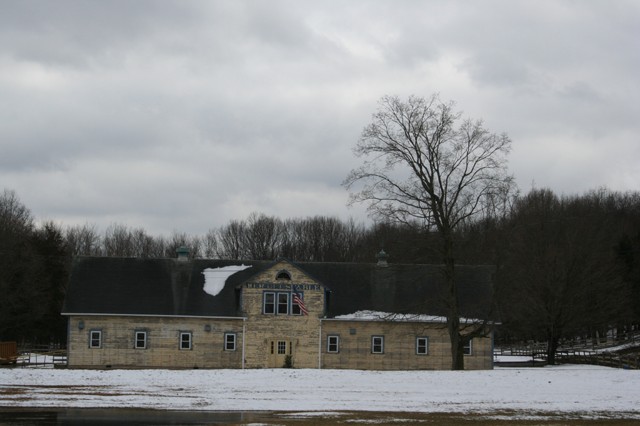 "There are new houses are out there now. Until recently you could see the board fence outline around the track. The big show barn is still there, but it doesn't look the same."
To race horses requires training like any other athlete.
"For a workout, we'd jog about 2 miles to warm up," he recalled. "Always would jog the wrong way around the track, backwards from race day. So when we'd turn around, the horse would know it was showtime."
"As far as trotting horse tracks, there were quite a few. Charter Oak Park in West Hartford, which is a mile track, we would race there every year. The grand circuit was the elite of trotting at the time. Cherry Park in Avon, and the Danbury State Fair had a track. Some of the smaller fairs we used to race for oats, that was the old-fashioned way."
They traveled with a six-horse van and another truck for tack and gear. The Green Mountain Circuit included Barton, Essex Junction, Rutland, Vermont.
"Then we'd go to Greenfield Mass., then to Eastern States, Scranton and other places. Usually we'd wind up at Danbury, then go home from there."
Mantie met the woman who would become his wife at Crystal Lake. Known to family and friends as "B" Burnice Hawley then lived around the corner on Ridge Road. The two married on Jan. 31, 1942. He went into the Army Air Corps in Sept. 1942, served in England with the 8th Air Corps (a bomber unit with B-17s and B-24s) and didn't get home again until Oct. 1945.
"When I got back, Mr. Porteous had died. They had sold everything."
He then left horses behind and went to work for Wilcox & Crittenden in shipping for 12 years, then as salesman for New England, then marine sales manager, until he retired in 1979.
"It's been a heck of a good life."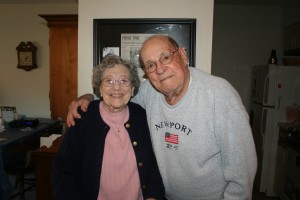 In memoriam: Clayton Mantie left this life Oct. 10, 2010. It was a privilege to meet him, listen and then share his story. He will be missed.