Editor's note: A story of an artist at work that was originally published June 25, 2010. Re-reading Studs Terkel's 'Working' and noticing he was way ahead of his time. "Break the dollar down for good and the farmer's down at the bottom of the list. He's got the most invested of all but he's the smallest percentage-wise out of the food dollar, The processors, it seems like that's the big end of it. The ladies like to buy this ready-prepared and frozen and all that, and that costs 'em." That's an excerpt from his interview with a farmer in the section "Working the Land" – there's much more.
The beauty of a working tractor in a hayfield is something many people drive by. Not so with an artist who moved from the city to a riverfront town, where a Main Street community and country lifestyles co-exist. A personal quest for hay led to my learning about history of the farm (part one), and then about the artist drawn to its workaday beauty. Here is Hubbard-Wyskiel Farm, part two, how the lives of an artist and the farm work intertwined.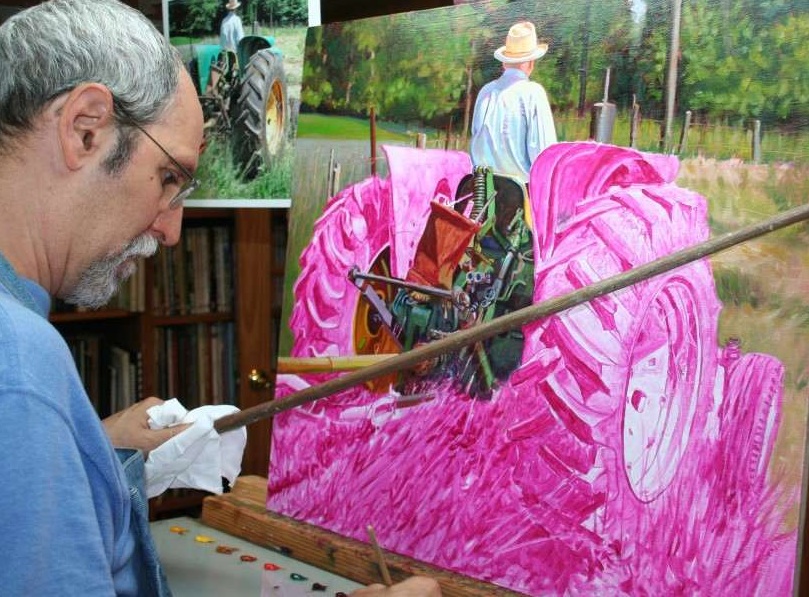 Artist Paul Baldassini notices things most people miss. He takes the ordinary and makes it sublime.
"A big part of the artist's work is to take some aspect of reality that people may take for granted, something they see on daily basis, and freeze the moment. So that maybe they look at what they never paid attention to before."
Baldassini moved to Connecticut after living in Boston where he owned a commercial graphic design studio with clients in the corporate, private and non-profit arenas.
"I lived right downtown, so this is the country to me," he said from his Middletown studio. "The grasses and fields I pass daily are just so beautiful."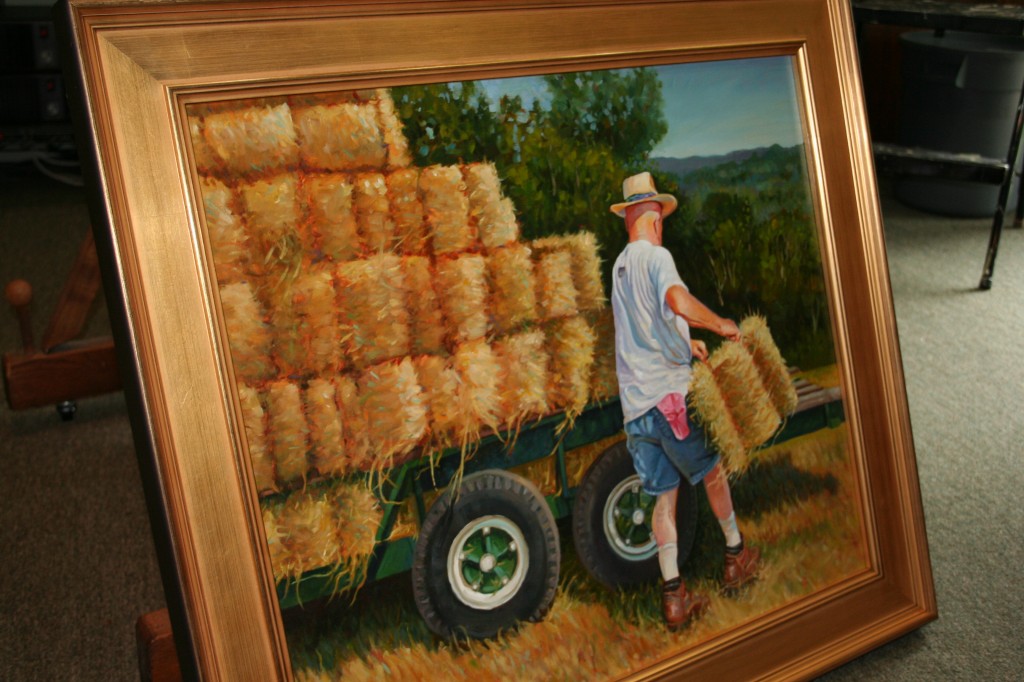 As a photographer, he first captures the images of people with tractors and machinery such as mowers and tedders and hay wagons that result in his ongoing "Working Land" oil paintings series.
"Tractors are functional working objects. They offer tremendous challenges to paint," he points out. "I like things with lots of character. These objects speak of usefulness and age and wear and tear, yet they are still going strong."
Stopping by a farm he passes regularly, he met Stanley Wyskiel. One thing led to another and Stanley, along with his brother, Walter Wyskiel, are in several paintings as they were haying in the summer of 2009. The Wyskiels grow and harvest hay and keep two to four beef cattle, depending on the time of year.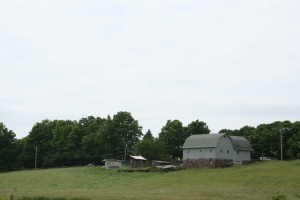 The Hubbard-Wyskiel Farm has caught the eye of artists (and photographers) before with its pastoral beauty.
"One day Michael, my son saw an artist set up, drawing the barn," said Stanley Wyskiel. "The original barn burned in 1966 and some time after that, I went to a funeral at Doolittle's and saw a framed picture of it on the wall. We asked for a print, and they gave it to us." A picture now hangs in the barn that stands today.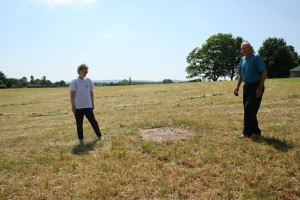 In his travels, Baldassini has also struck up friendships with area farmers and land owners who have equipment or tools he is interested in.
"They've been very generous to me," he said. "Since I work photographically, I compose images way in advance of my painting." Often there are six or so in progress.
As he paints, the center of interest is generally blocked out first. "In this case, the components of the back of this tractor are very complicated. I tend to do the hardest parts of a painting first."

While working, he fuels up by listening to an eclectic music mix – Lou Reed, King Crimson, Rage Against the Machine, Iggy Pop, Captain Beefheart, Frank Zappa, what he calls "music with an attitude."
"The energy gets me going," he said. He also attends tractor shows now and is a judge at the Durham Fair, where he exhibited work until it started selling.
"Once you do that you are considered professional and you can't show at the Durham Fair any more. So they asked me if I'd like to be a judge instead."
Future plans include a possible shoreline series."Boatyards, boats on jacks with barnacles being cleaned off, the light on the water, every day work that is performed."
"But the tractors really interest me," he said and notes that he plans to stay with them for awhile. The geometric shapes of hay wagons also intrigue him. "The handmade qualities are there because many of the farmers make their own hay wagons out of spare parts. I will be doing a series of hay wagons."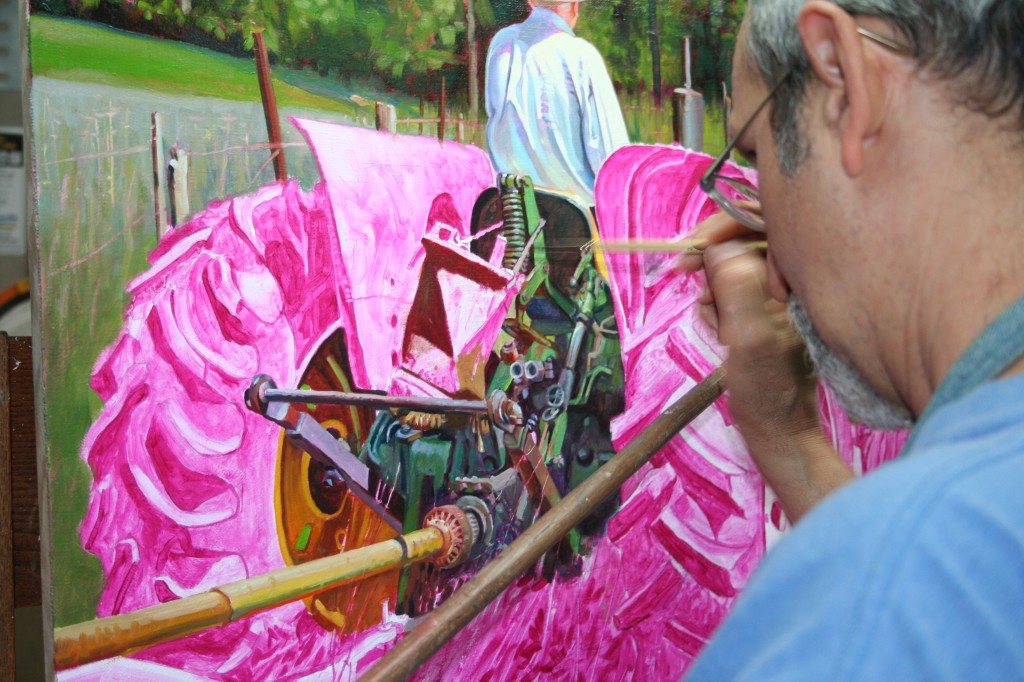 For updates – he was featured in International Artist magazine in 2016, or to see a portfolio, and learn more about Paul Baldassini's work since this story originally appeared, visit his web site, linked here. Here is a link to his Facebook page – subscribers are in for a treat; the works of art are stunning.
Or return to read more about the farm in part one.