Respect: U.S Marine To Vets
What would you do?
Photography this page by Anders G. Helm, Moo Dog Press.

"Richard Kowalker is a Vietnam Veteran who attends funerals to honor veterans with his "riderless horse" Melody. Richard is well known to many in Connecticut and attends dozens of military funerals across the region each year. The empty saddle and boots set backwards in the stirrups are a traditional honor for fallen soldiers.
"On Friday night, Richard discovered that his horse trailer was damaged beyond repair and he would be unable to use it to attend a Saturday funeral in Wethersfield. Undaunted, he hit the road on horseback with Melody and Sassy, a second horse he borrowed from a friend. Along the way Richard was escorted by several police departments including Middlefield, Cromwell, Rocky Hill and Wethersfield. A friend saw them and assisted by picking them up with his trailer to get them to their destination. A call went out on social media to assist Richard and his horses with a ride home, and offers for assistance poured in to help this special man on his selfless mission. He found a ride home but he is in need of a working trailer of his own so he can continue to provide this service to honor deceased veterans in the future."
For more about Kowalker's continued efforts to honor veterans, here is the
link
to the YouCaring site (now closed, mission accomplished) for information.
Editor's note: On July, 9, 2015, in a special ceremony with a small crowd gathered, Kowalker was presented with a brand-new horse trailer at Turnpike Motors Autobody in Newington. The Hoffman Auto Group matched funds raised; Ken Yavis, a friend whose efforts helped all this come about, spoke but downplayed his role.
"I was in the right place, and the right time to help the right guy," said Yavis. Kowalter later came over to shake Yavis's hand and thank him.
————————————–
Also of note is a new book Sergeant Stubby by Ann Bausum, with a foreword by David E. Sharpe, founder and chairman, Companions for Heroes.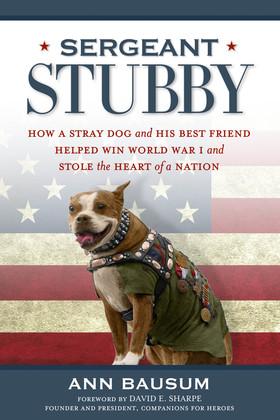 From the back cover: This compelling account reminds readers of the magic that can happen when a bond is formed between a human and a dog.
For a story from our archives about Stubby, the First Company Governor's Foot Guard, and an award for bravery in Connecticut dedicated to the memory of his service, see this link.
Moo Dog Press: More Places & Platforms