High On A Hill Heritage, Human History: Indian Hill + The Russell Chapel
A 45-acre natural elevation that stands above a landscape that slopes towards a long tidal river, with sweeping views of a verdant valley where life flows by, part of an endless cycle. Natural beauty in every direction. Sturdy oaks, copper beeches, evergreens; flowering ornamentals, annuals, perennials, wildflowers, fragrant lilac.
Indian Hill Cemetery was founded in 1850.
"Each section of the cemetery was built on a tier, different levels," said Norm Emond, superintendent of Indian Hill Cemetery, Middletown, Connecticut. "When you're at the top you have reached what we call the mound, a sacred space left open that was used by the Wangunk tribe whose members lived throughout the area – what is now known as Newfield Street to Portland to Hartford and so on. They would perform ceremonies and war dances on the hill. Years ago, when the trees were minimal, the highest space provided a vantage point – a lookout where they could look up and down the Connecticut River to see if anyone was approaching. They really weren't really bothered by the locals, they had no issues with them – but were more concerned about other tribes attacking, they had enemies. One of those, I believe, were the Pequots, as well as some other tribes."
The hill was revered for another reason. One visit and you will see why humans chose this noteworthy site.
As the grounds are tiered, a winding road goes ever upward to the very top.
"Couples have chosen to be married at the top with just a justice of the peace, a few friends. The panoramic views from there are spectacular." Photographers are drawn here for the natural light, and the sunset views. It is phenomenal in the autumn when the trees provide additional gem-like hues.
"We did do a ground penetrating survey with the state of Connecticut to check the mound, because there were rumors that Indian chiefs were buried here," he said. "Four anomalies were documented in that hill. We don't know exactly what those are, but they appear at opposite corners on the mound and this is sacred ground that will never be disturbed. Yes, there are still some Wangunk relatives who live in the area."
He did note that there is a shaman who visits to honor and pay respect to a sister interred here. At times an awakening ceremony is done on top of the mound – with chants and music. The shaman has reported a vision seen of a rider on horseback who moves from side to side across the knoll, according to Norm, who has held ceremonial objects necessary for the observance. "Could be he guards the area, protecting those four anomalies."
Respect and courtesy, celebration and knowledge, abide on the grounds along with the rustling trees, bird song, sun and wind. All are welcome. There is a hush in winter when snow outlines the sculptures, names, engraved surfaces. This is a serene island of calm, wherever you are in a human life cycle.
"The view from the summit is quite beautiful, you can see Meriden and the mountains to the west, the Arrigoni bridge to the east, the river, parts of Cromwell."
A place to think and wonder and to remember. Each marker here is a story. Those who shaped the world in business and commerce, as physicians, in publishing and creative works. Others with their love, raising a family, holding people together, shaping one person or many, teaching, contributing in everyday actions. "I was here, remember me." For those who marched off to fight in the War Between the States, a sentinel stands guard, ever watchful. Regiment members who fought side by side camped between skirmishes or hand to hand combat, now rest in peace all together again at last.
—————
Daily life hustles and traffic bustles to and fro, far below each day. Many residents and commuters are unaware of Indian Hill, surrounded by beautifully worked stone walls that frame a park-like beauty. The brownstone chapel is placed perfectly in the elbow of the sloping hill. Magnificent trees and shrubs provide sanctuary for birds and shade for visitors. Carpets of tiny wildflowers have naturalized in some spot for cheerful accents amid the groomed green grass. The Wesleyan University campus can be seen far below and to the east on a smaller hill.
The chapel itself was built in 1867 by Frances Russell, dedicated to the memory of her husband, her sons, and her sister. "Mrs. Russell wanted to do something special for her family," he said. "The brownstone which built the chapel came out of the famed Portland quarry across the Connecticut River from Middletown. Local tradesmen and artisans did the work." As time passed, nature took its toll on the structure with stone archways, stained glass windows, plaster interior detail. Water seeps didn't help.
Due to dedicated efforts to preserve it, the outside of The Russell Chapel was restored and completed with a matching state grant from the state of Connecticut for $200,000. "We had to spend $400,000 to get the $200,000," he notes. "There will be an ongoing fundraiser to support restoration of the chapel. We need to raise quite a bit of funds to get it done."
Focus has now turned to the interior, which needs attention as it has remained relatively untouched since the 1950s. "The present board was not going to allow it to sit there and disintegrate, they chose to refurbish it, and the chapel is just gorgeous. When we are done we will use it for memorials, funerals, for weddings, for use by civic organizations for their events or gatherings. The chapel can hold about 100 people, and it will be heated when complete."
Samuel Russell, born in Middletown Aug. 25, 1789, was an American entrepreneur and trader, and founder of Russell & Company, the largest and most important American trading house in China from 1842 to its closing in 1891. Middletown was then an important port city with an active shipping trade. With superb business acumen, Russell did very well in life and in business. "When he passed (May 5, 1862), his wife was left with quite a bit of money," notes Emond.
And the Russell plot is impressive, befitting his stature in society and the community where he left his mark.
"All the mortar, stone have been repointed, the windows restored and repaired – the exterior is complete and watertight. Now we are going start on the inside. To do that we have to raise funds to continue the restoration. Before the Portland quarry closed, a gentleman there was still mining brownstone. There is a huge piece of brownstone as a sign now placed at the top of the wall at the corner of Vine street near the main entrance."
He shares a "hidden" feature of the stone wall that many people never see.
"Below the (new) brownstone sign there are some drawings showing a moon. The sun. A date. To see these, you have to really look closely at the wall."
"We do have very notable people here at Indian Hill. We have the Hubbards, the Palmers, Gold Star recipients. Author William Manchester, Wesleyan professors, Governor Baldwin, other governors, mayors. Allie Wrubel, a songwriter who contributed material to a large number of movies and who collaborated with lyricist Ray Gilbert on "Zip-A-Dee-Doo-Dah" from the film Song of the South. (That won an Oscar for Best Song in 1947.) This is just to name some of the people and history here."
Yes, they are working out a series of guided walks to highlight human history, little-known facts, artistry. Well-known citizens at Indian Hill include names such as Wilcox, Alsop, Baldwin. Physicians. Alsop, Chauncey, Mütter. An excerpt from a book featured on Amazon about Mütter: "A brilliant and eccentric medical innovator who revolutionized American surgery and founded the country's most famous museum of medical oddities. Thomas Dent Mütter began his trailblazing career as a plastic surgeon in Philadelphia during the mid-19th century. Although he died at just 48, Mütter was an audacious medical innovator who pioneered the use of ether as anesthesia, the sterilization of surgical tools, and a compassion-based vision for helping the severely deformed, which clashed spectacularly with the sentiments of his time. Brilliant, outspoken, and brazenly handsome, Mütter was flamboyant in every aspect of his life. He wore pink silk suits to perform surgery, added an umlaut to his last name just because he could, and amassed an immense collection of medical oddities that would later form the basis of Philadelphia's renowned Mütter Museum."
Indian Hill is overseen by an association board; members oversee a mission to "preserve, protect, and promote in perpetuity the historical structures, culture, history and natural beauty of Indian Hill Cemetery, through events, educational tours, donations, first, wills, and grant applications."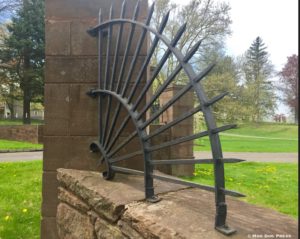 "Native American New Englanders have a very deep history that was chronicled in their oral traditions. This deep history also has been confirmed by archaeological investigations. In Connecticut, the earliest known archaeology site is the Paleo-Indian Templeton site, located in Washington, CT and radiocarbon-dated to 10,200 years ago. … Wangunk tribe held claim to a huge swath of territory, and that territory was occupied by a substantial indigenous population continuously from PaleoIndian times well into the contact period. By the time of European settlement in 1633, over a dozen Wangunk villages were known to be located along the river: Poquonnoc (present Windsor Locks); Suckiog (present Hartford); Matianuck and Mattacomacok (present Windsor); Pyquag (present Wethersfield); Nayaug and Naubuc (present Glastonbury); Wangunk (present Portland); Mattabesek (Middletown); Coginchaug (present Durham); Cockaponset (present Haddam); Cossonnacock (present Haddam/Lyme area); south to Pattyquonk and Machemoodus (East Haddam) (Ives 2001, 2004; Yale Indian Papers 2015)." – Pre-colonial History of the Wangunk by Lucianne Lavin, Ph.D. of the Institute for American Indian Studies, which was presented at the panel event "Indigenous Middletown: Settler Colonial and Wangunk Tribal History" Dec. 5, 2015 at Wesleyan University.
Editor's note: Related story about Mamooson's tree and Indian Hill linked here. Recommended read: Dr. Mutter's Marvels: A True Tale of Intrigue and Innovation at the Dawn of Modern Medicine by Cristin O'Keefe Aptowicz. In 2017 a special event "From Gothic to Light: A Day of Art, History, Music and Fashion" was held on site, part of ongoing community outreach and for the ongoing restoration of The Russell Chapel.