'Whit' Davis And The Oldest Farm in Connecticut: Life With Land Legacy
Editor's note: Whit Davis passed from this life on May 4, 2016. This story is from meeting him at the Denison Farmers' Market in 2012.
The Davis Farm is the oldest continuously active farm in Connecticut.
Deep roots we're talking here. Eleven generations, all the way back to 1654.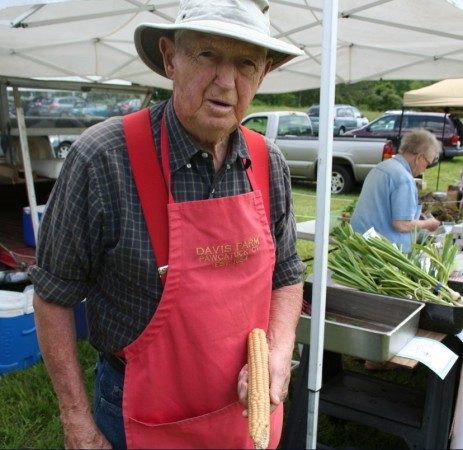 Shake hands with John Whitman "Whit" Davis, and know that a life lived working the land creates a library of knowledge about soil, crops, livestock (and human nature, too). Davis's stories could fill volumes.
Whit Davis of Pawcatuck, Conn., 87, and his wife, Velora, set up a booth in a meadow at the Denison Farmers' Market each Sunday. Davis looks a market-goer square in the eye and tells it like it is – there are some 400 acres left from the original land holdings; 60 are tillable. Four restaurants in two states call on him for the distinctive white flint corn meal grown and produced on the farm. His son recently harvested 7,000 bales of hay. Some 150 chickens scratch and peck in the earth; four acres are devoted to a vegetable garden. Then he hones in on corn. An ear of flint corn held in the hand of Whit Davis is a teaching tool and leads one on a journey into human history.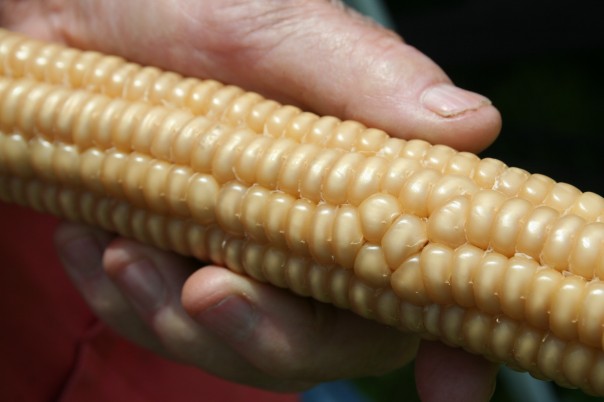 Indigenous people in Mesoamerica domesticated corn, a grass which is also a grain, in prehistoric times.
"Flint corn is as heirloom as it gets," he says. "This ancient corn has been grown for 1,000 years, we got it from the Indians." As kernels were placed in the palms of ancestors on the farm, Davis has given seed corn back to replenish what was lost to tribes such as Mohegan, Mashpee Wampanoag, Chappaquiddick Wampanoag, Ojibway in Michigan, Navajo.
There are three colors of the strain: amber/butterscotch, all red, all white. Davis points out the distinctive diamond-shape kernel on an ear of the variety so-called because kernels dry as hard as flint.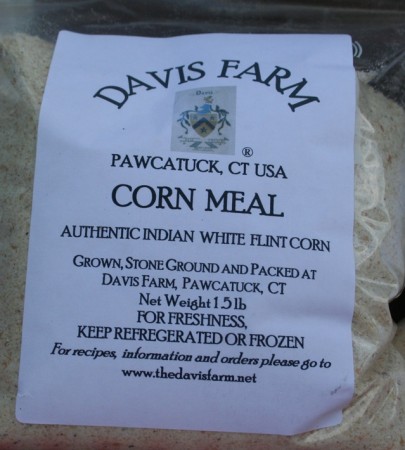 "The mystery is that the red will not mix with white, for example," he explains. "Flint corn will cross with sweet corn – but not itself." He once asked a Mohegan woman in her 90s attending a johnnycake dinner why that is so. "She smiled and said 'maybe it's not for you to know.'"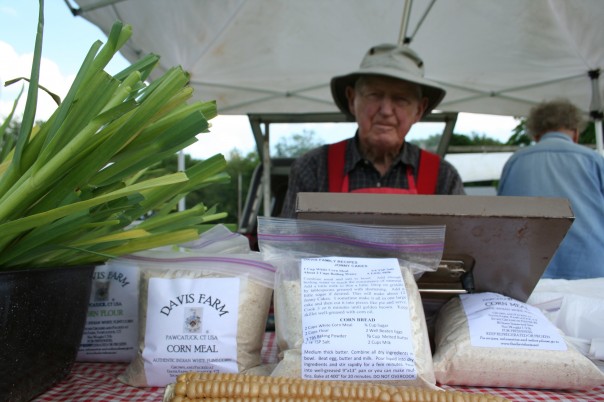 Scientists at The Connecticut Agricultural Experiment Station study the corn to decode the reason behind that genetic strength.
Flinty veins of exceptional human history intertwine at the farm, also called the Stanton-Davis Farm, so-called for Thomas Stanton, an accomplished Indian interpreter and negotiator for United Colonies of New England, appointed in 1643. Stanton established a trading post on the Pawtucket River built in 1651, according to and walked with Uncas, the bilingual sachem of the Mohegans. (Food for thought on time context: Connecticut received its Royal Charter in 1662.)
There is a simple one-page document that illustrates the lineage from one life to the next on the Stanton-Davis Homestead Museum site, an in-depth and interesting resource about the house, people, artifacts, history. While no longer available online, a trove of fascinating history about the land, farm, and family are available at the official site linked here.)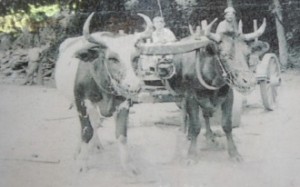 An excerpt: "They went up and lined up all the oxen with a long center chain going from the stone drag up through to the lead oxen, the front team. And then each pair of oxen had a chain going from their yoke to that center master chain. . . " – John Whit Davis
He tells me that the homestead is in the throes of restoration. And stories of the land, artifacts, human history found there and sometimes not honored. I long to know more.
Then a customer stops at the booth and picks up a carton of eggs, hands cash to Velora and quietly comments "These really are the absolute best eggs."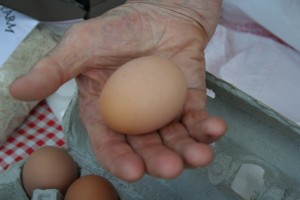 I have no doubt and have a hunch there is another interesting story behind the reason why.
Sundays, from June through October, noon to 3 p.m., market goers can purchase eggs, stoneground flint cornmeal, fresh vegetables in season. (And we've heard tell of his legendary sweet corn).
Here's hoping to pull on my boots and visit the farm to learn more about the cultivation of the land and preservation of a portion of it in perpetuity.
Meantime, tip of the hat to Stuart Woronecki, market master and owner of Stonewall Apiary, for reminding us about the Sunday market. The Denison Homestead is a bucolic setting with acres of history itself. Surrounded by miles of nature trails, the house museum is on a knoll that overlooks the market meadow – and directly across the road is the Denison Pequotsepos Nature Center, which offers programs/guided walks, a gift shop and live animals (don't miss the sleepy owls).
Land, water, sky, farm.
Land & Life = Stories
Editor's note: For news about the ongoing (2014) efforts and news to preserve the land and homestead – with great photos – visit The Thomas Stanton Society Facebook page, linked here.
A news story about Mr. Davis in The Westerly Sun is linked here.