Town Docks – Cool, Hot – Net Repair To Scallops
A twine needle deftly wielded by Captain Charles Fellows of the Charlotte Elizabeth flew as he repaired nets used to catch summer fluke and sea bass in Long Island Sound. He started fishing at age 12.
"The highest compliment that you can pay me is to say that I work hard every day, that I never dog it."
- Wayne Gretzky
The daily life at the working waterfront on the town docks is steps away from the Stonington Farmers' Market, which happens on Saturdays, 9 a.m. to noon. If you're looking for fresh seafood (and the stone-ground cornmeal and eggs to whip up some golden batter-dipped flounder), fresh vegetables and greens, wine, cheeses or other delicious foods, this is the place. The tang of the salt air on the almost constant ocean breezes are a bonus at this particular market.
As Independence Day, July 4, is on the horizon, consider that freedom – even the simple choice of enough to eat – is a privilege denied to much of the world's population.
People who fish the sea, farm land, operate a business, encourage farmers' markets for their own community celebrate freedom with their choices. Sure, it may be more difficult to operate a small business and there's certainly risk involved.
"Liberty means responsibility. That is why most men dread it."
- George Bernard Shaw
There are those who will scoff at a new venture, and plenty who will point out all the reasons that it will never work. But you know what? Take a look around at any market, or walk the streets of a healthy community to see people trying their best every day and not only launching but growing businesses. Their choices – hard work and talents – add to our combined world.
Some elements of a market are similar no matter where the location in the state, region or country. Each has its own flavor, a reflection of the community in which it grows.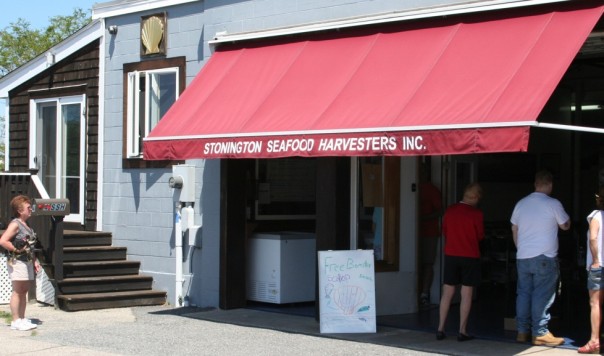 The no-frills storefront of Stonington Seafood Harvestors, operated by the Bomster family is right near the market and the town dock. The family emblem is a scallop (look for the small golden scallop at the peak of the building) and this no-frills building draws scallop lovers from near and far, just by word of mouth. (No pun intended, but it's true.)
So savor that a cup of fresh Italian ice and listen to live music at a market or festival – but also take time to really scrutinize what's happening – observe the interaction of the community and the creativity, determination and independence of vendors and business owners.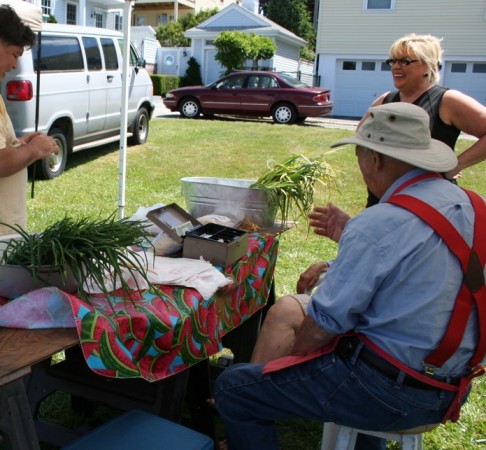 You're looking at the lifeblood of the United States – responsible people taking a risk, celebrating the freedom to choose their own life's work – or at least a chapter.
While in Stonington, we heard about a new study to map the floor of Long Island Sound and gather data about all that lives in its waters. Scientists and academics, plus federal, state, and local agencies are teaming up for the effort and calling in all sorts of technical know-how to peer into the depths. Just think of the conversations that will result, leading to a cross-pollination of ideas in the region and beyond. Related story, linked here.

"The man with a new idea is a crank until the idea succeeds." – Mark Twain
Notable: Thimble Island Oyster Company is 60-acre farm (yes, farm) in the waters of Thimble Islands of Long Island Sound. This locally-owned company offers the first "CSF" (that's a community supported fishery, based on the concepts in community supported agriculture) in Long Island Sound. Check out their innovative collaborations – Dr. Charles Yarish of the University of Connecticut, Bun Lai of Miya's Sushi, Woods Hole Oceanographic Institute and Bridgeport Regional Aquaculture Science and Technology Education Center Sound School – or what's going on in the Sound on their Facebook page or website.
They're doing things like cultivating seaweed and mussels on the lines above their oyster and clam cages – similar to intensive double cropping on land.
Celebrate the freedom to choose your own food, grow it, or support those who do – no matter whether that means a single cherry tomato plant in a patio pot, window boxes full of clippable greens – or picking a CSA to support the people who keep fertile acres under cultivation.