A Visit With Greenbacker's Brookfield Dairy Farm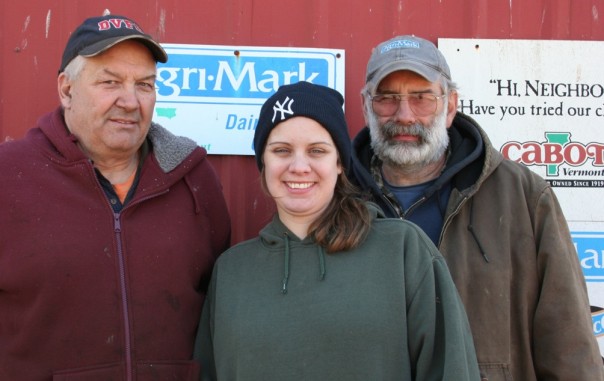 Greenbackers's Brookfield Farm is located on both sides of Route 68/Wallingford Road in Durham, Connecticut. The family-owned and operated dairy is home to 160 cows, mostly Holsteins, but also 30 Jerseys, 15 Brown Swiss and three American Milking Shorthorns. Joe, David, and Melissa Greenbacker (shown above), partners in the family LLC, share the work in barn, pasture and fields 365 days a year.
Milking is done twice daily; at 2 p.m. and 2 a.m. (yes, a.m.) 12 hours apart, every day, year-round. Joe and daughter, Melissa, take turns for the early-morning shift, which takes 3 to 4 hours to complete.
"There are farms in Connecticut milking considerably more cows than we do," he said. "We belong to Agimark Cooperative and they market for us. Most of the time our milk goes to Guida's Dairy in New Britain, now owned by Dairy Farmers of America, a national co-operative."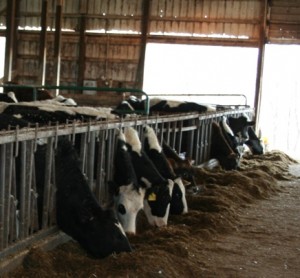 Greenbackers's farm is the largest in Middlesex County. The scenic 415-acres – mostly open fields and rolling hills – are protected from development under the Connecticut Farm Preservation Act.
The farm not only produces milk, but the family also serves as ambassadors hosting school visits and participating at fairs to connect the general public to something quite basic – where milk comes from.
"We do get a lot of non-farm visitors and there are basics to what we talk about on a tour. Some think that cows just give milk and will ask where are the boy cows? These are the kind of things I think everyone knows about, such as that a cow must have a calf to produce milk – but many people don't know. We talk very differently to industry people when they visit."

"Schoolchildren are just happy to pet a cow," said Melissa. "When they are here, I don't get too specific, but while they are with the cows the parents want to know a little more and I will explain to them."
Now, what may be evident to a herd manager – but not to the general public who tote home gallons of milk and related products from a supermarket – is that cows produce milk to feed their offspring, calves.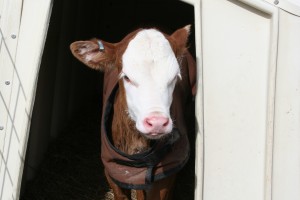 A cow is an adult female that has had a calf. Gestation is 9 months and results in one or two calves.

Females that have not yet had a calf are heifers. Young cattle of both genders are known as calves. A steer is a castrated male. There is no such thing as a male cow; an intact male is a bull.

A recent study by the University of Connecticut has shown the economic impact of the agricultural industry on the state economy was up to $3.5 billion, with overall dairy industry more than $1 billion a year. Measuring the value of agricultural output as statewide sales generated directly from the industry and through spillover effects on other industries impacted, that translates into approximately $1,000 per resident.
"Our milk is priced on a national basis and our costs are higher here in Connecticut. Farmers can sell their land for development at a good price, so it's very tempting to go out of the business," notes Joe. "Therefore, there is some decline in the dairy business and that's been happening for years."
"Our farm contributes to the overall state and community by providing a nutritious food product, by preserving open space, and by generating a significant amount of economic activity in our local area," he said. "Depending on how the crops are and some other variables, we will produce from three-and-a-half to four million pounds of milk, that's about 500,000 gallons per year," he said and notes that is about average compared to other farms in the state.
Whether hosting a visit from area schools, participating in agricultural fairs or hosting a Cabot Cheese open barn event, the Greenbackers are gracious hosts to people with genuine curiosity. Visitors recently included residents of the country of Colombia who are involved in the dairy industry for an exchange of ideas. They were at Yale University for a conference and a colleague provided the connection to the Greenbackers.
"They learned about us and I also learned from them. Since their country is in a tropical setting, their cows can graze pasture year round," notes Joe.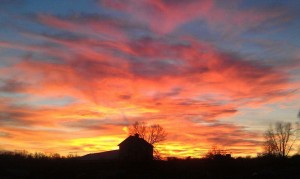 The family is active in the Connecticut Farm Bureau and Melissa serves as second vice president, board of directors and as vice president on the board of directors for Middlesex County Farm Bureau. The business includes the Greenbackers Agway Store, located on Paddock Avenue in Meriden, a separate retail operation near the family's original farm lands.
"Anytime we can communicate with the public and consumer about what we do and explain why we do it, we think it creates better relations with our neighbors – and the community."
Editor's Note: Since we so enjoyed the photo of a striking sunset as seen on the farm – one of a series on the Greenbacker's Brookfield Farm Facebook page – the image above is linked so readers may easily find the page.