We are in the belly of summer and it is a fine place to be. Gardens starting to burst with ripe tomatoes, green beans, corn, dill, basil, squash, zucchini. Fire up the grill, have a campfire out back, make some s'mores while the fireflies flicker and dance. Take in a country fair, enjoy an ice cream cone, sit awhile to soak up a summer evening and simple pleasures. Take a cruise by the shoreline, inhale the aromas of salt and sea and hot tar. Better yet, go for a swim and let the waves rock you – a sensation that lingers way past exiting the water.
Just look at the smile on the young child's face in the middle of this draft horse driving competition photo (below) from last year's Goshen Agricultural Fair. Priceless. Two capable women hold the reins and direct the team of horses around the ring. All hail from Maple Hill Farm, West Cornwall, Connecticut.

Now, you'll have to wait until Aug. 30, Aug. 31 and Sept. 1 to see the draft horses hitch up and compete (plus all the other ag exhibits and shows in Goshen), but meantime the New London 4-H exposition is Friday, July 25 through Sunday, July 27 at the North Stonington fairgrounds. A smaller fair, yes, but with a full roster of exhibits and livestock, competitions, fun contests, ice cream sundaes in the pavilion, hay toss contest, sheep show – horse, pony ox pulls – much more. There is also an open-to-the-public pet show on Saturday. Draft horse show on Sunday starting at 9 a.m. The dog show is on Sunday, with entries accepted at 8 a.m.; judging at 9 a.m. The image below is from a previous year's competition and is connected to the site to learn more about the rules and how to get in the contest.
Yes, there is another pet parade on
Saturday, July 26
(sign up at 9 a.m.), which is a popular part of the Old Lyme Midsummer Festival. The community event is
July 25
and
July 26
with vendors, events, book signings, farm animals, hands-on children's activities, a market, art displays – all along Lyme Street from the Village Shoppes to the Bee & Thistle Inn.
Deerfield Valley Blueberry Festival, Friday, July 25 onwards to Aug. 3, Mount Snow Valley, Vermont. Blueberry or blue-themed events – no kidding – include a Big Blue Parade, a Blue Street Fair, a blue car auto show, blueberry bake sales, blue beer, pick your own blueberries. Everything you need to know to go – linked here. Here's a slice of one day in this community effort for family fun: Sunday, July 27, Doggie Palooza, 9 a.m. to noon, canine dancing (yes, you read that right), agility, blessing of the dogs, dog show, nose work, vendors. Farm.o.l.o.g.y at 11 a.m. means learn how to plant blueberry bushes to later cultivate (maybe) a patch of your own. Hike to the top of Haystack Mountain with "Mr. Haystack" Jake White, 9:30 a.m. to noon. And lots more free family fun. For information contact the chamber of commerce at (802) 466-8092. This sure sounds like fun; wear blue.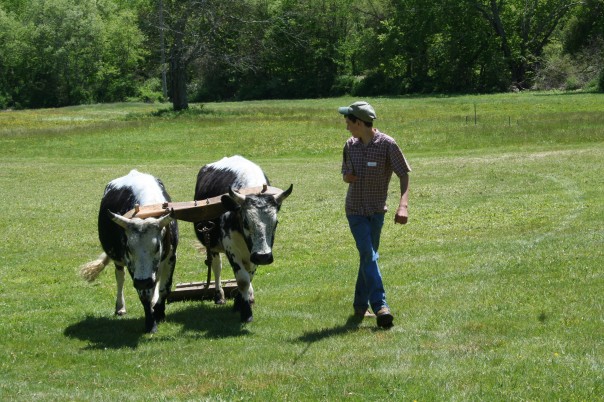 Love to watch teamwork in action? Plan ahead to go to the Draft Animal Power annual gathering, Sept. 26 through Sept. 28, at the Cummington Fairgrounds in Cummington, Mass. Note: Top photo is linked to site for all the how-to-get-theres.
Now, I didn't know camelids could dance, did you? The Alpaca Hoedown at Stone Bridge Farm in Griswold is Saturday, July 26, 10 a.m. to 5 p.m. Time-honored craft demonstrations include weaving, felting, candlemaking, knitting, others. Vendors will be crafting jewelry, early-American pottery, relishes, soap, maple syrup, honey and baked goods. Square dancing begins at 1:30 p.m.; highlight of the day will be "The Alpaca Promenade." (No, the alpacas don't really dance, but they just like doing a little showing off when the tunes play.) Admission is a free-will offering ($5 for those older than 12). Call for information, (860) 383-9576.