Farm Markets/Eats
Grilled meat cook-off at CCC Farm Stand and Market at 35 Oakland St., Manchester's "Meet the Producer Day" on Saturday, July 12, 10 a.m. to 4 p.m. Sample tidbits of farm-raised pork, beef, goat, lamb raised by Hemlock Knoll Farm and Hillview Farm.
Say howdy to farmers and producers behind the CT grown and manufactured goods or try a sip of raw milk produced by Buttercup Farm. Crafters will demonstrate needle felting and spinning wool. Need a reusable tote? Choose from various sizes of handmade fabric shopping bags and carryalls. Local is best. Stop in and see (or taste) why.

Wethersfield Farmers Market every Thursday at the white-with-black-shutters (and a wrap-around porch) Solomon Welles House (near the DMV), 220 Hartford Ave., 3 to 6 p.m. Acres of roam to roam (or have a picnic) at Cove Park. Special event coming up, "Blues, Brew and BBQ" on July 24 features chicken, ribs, all the fixings, local beer and bluegrass; $30.

Old Saybrook Farmers' Market, 210 Main St., Saturdays 9 a.m. to 12:30 p.m. and Wednesdays. 10 a.m. to 1 p.m.
Think of every farm market as a micro-business incubator for entrepreneurs. (We do.)

Higganum Farmers Market is open, Fridays, 3:30 to 6:30 p.m. on the village green. Middletown Farmers' Market, Tuesday and Thursday, 8 a.m. to 1 p.m., Town Green on Old Church Street; North End market, Fridays, 10 a.m. to 2 p.m., 575 Main St. Dudley Farm Museum Farmers Market, 9 a.m. to 12:30 p.m., on Saturdays. Visit the Dudley Farm to walk the 10 acres that feature farm animals, barns, a farmhouse and much (300 years) history. The North Guilford farm museum is open through October on Thursday, Friday, Saturday, 10 a.m. to 1 p.m.; Sunday, 10 a.m. to 1 p.m.; admission, $3.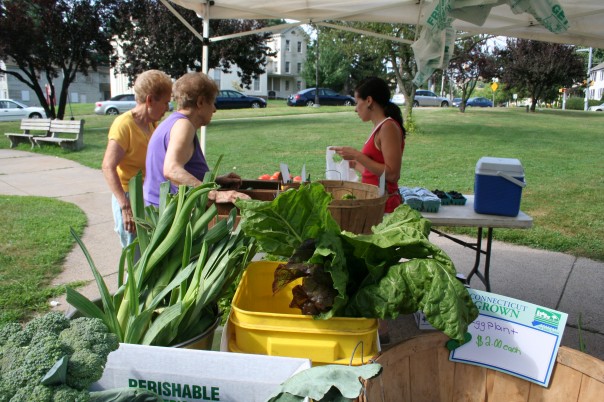 Killam & Bassette Farmstead stand is open daily 9 a.m. to 6 p.m. on the honor system (exact change or checks). GMO-free products. To be added to the farm's waitlist e-mail them at kandbfarmstead@gmail.com. The farm also offers all-natural, USDA fresh pork; call (860) 833-0095 or e-mail to check availability.
Looking for a market or anearly anything edible in Fairfield County? See this
link
to a wealth of knowledge.
Bozrah Farmers Market, Fridays, 4 to 7 p.m. at the Maples Farm Park, 45 Bozrah St. The Danbury Farmers Market Community Collaborative, 11 a.m. to 5 p.m., Fridays through Oct. 1. East Haddam Farmers Market at Ballek's Garden Center, Maple Avenue, every Wednesday, 4 to 7 p.m. – follow signs for detours due to ongoing construction on Route 82 for bridge work.
A year-round indoor farm market/shop is located at 35 Oakland St., Manchester, part of the farmer-owned cooperative known as the Central CT Co-op. Here's a link to their Facebook page to see some of what the local goods and fresh produce from local farms coming in the doors.
Or visit and walk around – it's a cross between a farm stand and a farmers' market/feed store.
Storrs Farmers Market, Saturdays, sets up in front of Mansfield Town Hall. The market is accepting vendor applications; for information see this market link. Urban Oaks Organic Farm store open year round Fridays, 2 to 6 p.m.; Saturdays, 10 a.m. to 1 p.m. at 225 Oak St., New Britain.

LocalHarvest makes it easy to find good food no matter where you roam – on the road, visiting friends and family or in your own backyard. Their directory lists more than 30,000 family farms and farmers markets, restaurants, grocery stores – all with a focus on local food. Take it for a test drive – here's the
link
to search by Zip code or product. Tell people what you grow, produce, make, offer – to create a listing, click
here
. While we turn the earth to expand our own gardens, we'll continue to spread the word about markets, noteworthy gardens, sources for the food for mind, body, soul.
Hartford
Billings Forge
, Thursday, 11 a.m. to 2 p.m., Frog Hollow. Stonington Farmers' Market, Saturdays, 9 a.m. to noon, Stonington Town Fishing Fleet Pier. Coventry Regional Farmers Market Sundays, 11 a.m. to 2 p.m., at the Nathan Hale Homestead.
Bishop's Farm Market and Winery, on the Boston Post Road, Guilford, offers fresh produce, gift baskets, pick your own and seasonal goods, a fully-stocked grocery, specialty products, sweet apple (and pear) cider, delectable pies, breads, muffins, cookies, fudge – apple cider donuts – much more.

On-site bakery. Gourmet food and a wide selection of spices and oils. Alpaca yarn, special events. Gift baskets, corporate gifts, kettle corn or dried fruit/nut tins. Wine made from their fruits and farms in the state available seven days a week. Tours of the winery on Saturday.
To participate in a market, visit this link to a state-sponsored page and grow more "direct sales, an expanded customer base and higher on-farm attendance" – sounds good for everyone.
Grab an unforgettable grinder to go at G. M. Thompson, include some chips, bring water, and make a short jaunt to the University of Connecticut at Storrs where a number of livestock barns are open to the public. Have a picnic lunch or walk the campus or Horsebarn Hill. Beautiful every season of the year.
There's also a marvelous independent bookstore and a network of hiking trails nearby. The history of the G.M. Thompson building is also interesting. The northeast front corner is the original part of the store and the section to the very back (where the meat counter and office are) served as a post office stood for about 25 years until it was moved across the street in 1937. That's just part of life at G.M.Thompson and Sons Feed, located at the railroad tracks in Mansfield Depot.
"Cultivation to the mind is as necessary as food to the body." – Marcus Tullius Cicero
Glastonbury, Saturdays, 10 a.m. to 1 p.m., www.glastonburyfarmersmarket.com. Billings Forge Farmers Market (Hartford), Thursdays, 11 a.m. to 2 p.m. Durham Farmers' Market, Thursdays, 3 to 6 p.m., on the town green. Willimantic, Saturdays, 8 a.m. to noon, near the Frog Bridge (worth a trip in itself).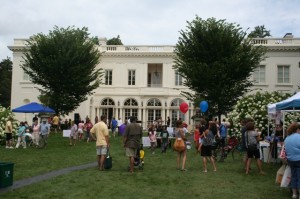 Open Air Market & Festival at the Wadsworth Mansion in Middletown, Aug. 24, 10 a.m. to 4 p.m. Marketplace and festival with vendors offering Connecticut grown or made products. Artisans, potters, painters, jewelers. Live music. Free admission.
For locations of CitySeed markets (New Haven) or to get involved as a vendor, visit this
link
. CitySeed's mission is to "engage the community in growing an equitable, local food system that promotes economic development, community development and sustainable agriculture" – each part feeds the others.