Maybe you know of a young farmer worthy of recognition. Now is the time to step up and tell their story. We need them.
The purpose of the Outstanding Young Farmers Program (OYF) is to bring about a "greater interest in the farmer to foster better urban-rural relations through the understanding of the farmers' endeavors, to develop a further appreciation for their contributions and achievements, and to inform the agribusiness community of the growing urban awareness of farmers' importance and impact on America's economy."
The Connecticut OYF Program is modeled directly on the National OYF Program. Most states offer a similar search that is a stepping stone to the national competition.
Nominees must be submitted on an official form and postmarked or e-mailed by Feb. 26. Nominees must be between 21 and 40 and must be actual farm operators, deriving a minimum of two-thirds of their income from farming.

The top 25 National Outstanding Young Farmer (OYF) semifinalists are determined based on personal contributions in the following categories:
1. Progress in agricultural career (50%)
2. Extent of soil and water conservation practices (25%)
3. Contributions to the well-being of the community, state and nation (25%)
In order to assist nominees in completing their nomination form for national competition, the National Outstanding Young Farmer (OYF) program provides guidelines and information to help the applicant complete their application. Full details on their site, but answers to these questions form half of the score: How and when did nominee get started? Were you raised on a farm and want to continue the family tradition and why? Did you work for a farmer at one time and decide this was the career you wanted? Did you have another career and decide to switch to an agriculture career? How old were you when you started farming, and how did this influence your career choice? Why did nominee enter farming and what were his/her goals? What are they now? Did you just want a job, or did you want a career? What goals did you set when you entered farming? Have you achieved your goals? If not, what steps are you taking to achieve your goals? What are your short or long-term goals?
For complete information, contact NOYF Coordinator, Rich Norz, via email at noyfprogram@gmail.com.
Each year, the OFA accepts nominations for National Outstanding Young Farmers. Ten finalists are honored at the annual NOYF Awards Congress held in a different region of the United States each year. Four national winners are selected, and all past nominees are inducted into the Outstanding Farmers of America.

Farmer Facts and Figures
According to the USDA, consistent with a 30-year trend, farmers average age continued to increase. For principal operators, average age increased 2 percent between 2007 and 2012. Although second and third operators are younger, their average ages increased 4 and 3 percent respectively. Among principal operators, 6 percent are under 35 years old, 61 percent are 35 to 64 years, and 33 percent are 65 and older. The older age groups all increased in number.
However, all categories of minority-operated farms increased between 2007 and 2012. Hispanic-operated farms were up 21 percent. Although more than half of all farms had sales of less than $10,000, minority-operated farms (except for Asian operated-farms) fell disproportionately into this group. In 2012, more than a third of Asian principal farmers operated farms with sales of $50,000 or more.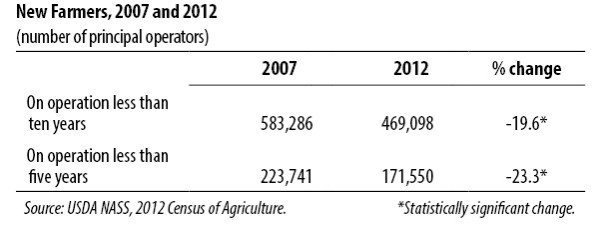 The report goes on, "In 2012, the number of new farmers who have been on their current operation less than 10 years was down 20 percent from 2007. Nearly 172,000 were on their current operation less than five years; this group was down 23 percent from 2007. Within groups, the proportion of principal operators who were new farmers varied, with Asian principal operators having the largest percentage who had been on their operation less than 10 years."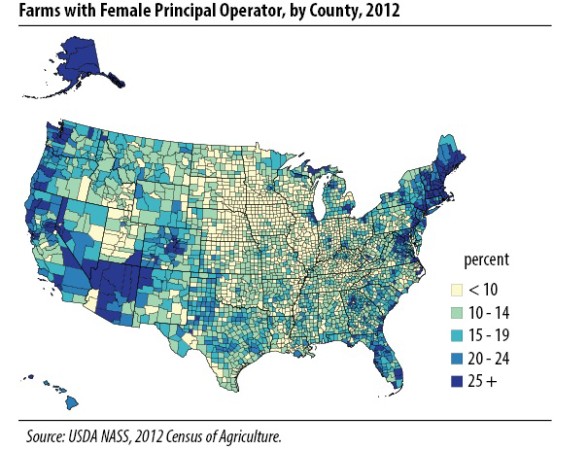 The number of women operating farms with annual sales of $10,000 or more increased in all categories – but 91 percent of farms with female principal operators had less than $50,000 in annual sales.
Kind of interesting demographics. As for Connecticut, with many two-income families nearing the age of retirement, it may be a good idea to find a way to attract them for micro-farming, gardens and other aspects of agriculture on a smaller scale – though not young in age by years, a new chapter could encourage them to stay in the state and re-engineer another career.

Other Resources: Beginning and minority farmers, check out The National Sustainable Agriculture Coalition (NSAC), an alliance of grassroots organizations that advocates for federal policy reform to advance the sustainability of agriculture, food systems, natural resources, and rural communities.
New or beginning farmers in Connecticut, as well as students interested in pursuing your interest in agriculture can connect with The Young Farmer Committee of the Connecticut Farm Bureau to network and learn from other farmers and leaders in agriculture. For additional information on Young Farmer events, contact them via email at CTYoungFarmers@gmail.com.
NRCS offers technical and financial assistance to farmers and ranchers wanting to implement conservation on land they own or lease. To get started with NRCS, visit your local USDA Service Center or www.nrcs.usda.gov/GetStarted. FSA offers loans and other program opportunities for farmers and ranchers. These efforts are part of a broader effort of USDA to help small and mid-sized farmers and ranchers. The USDA holds a library full of potential, large and small.
For additional resources, start with your local cooperative extension office – a wealth of information and knowledgeable people waiting to help.