Farms • Markets • Finds • Good Eats
With all the snow and ice outside (and more on the way) you may think fresh produce straight from the garden in June is far, far away – but it is not. To get onboard for the Killam & Bassette Farmstead CSA (that stands for community-supported agriculture, which is a prepaid subscription to a farm's produce for the season), apply now.
The CSA begins June 15 and keeps on until the end of October. Note: With a limited 30 memberships available, shares are on a first-come, first-serve basis.
"Your produce is picked fresh the day you receive your share, our free-range eggs are pulled from the coop that day, and our award-winning canned goods are made that week – which are made only from the produce on our farm! You will also be given the opportunity to receive a $10 gift certificate (in lieu of $10 worth of product on a specific week) for our all-natural USDA pork that can be purchased at our farmstand. Everything is as fresh as if you picked it yourself and delivers the most nutrients to you."
Get an application at the farmstand or online at this
link
. The stand is open
daily
9 a.m. to 6 p.m. on the honor system (exact change or checks). Always GMO-free products. Call Chris at (860) 833-0095 with any questions. (
Here is a story we did in 2012.
)
Psst. Ask at your favorite market or farm store about CSAs in and around your hometown. You'd be surprised at the fresh and locally produced foods near you – and you'll be supporting micro enterprises – even if that purchase is just a dozen eggs purchased every other week.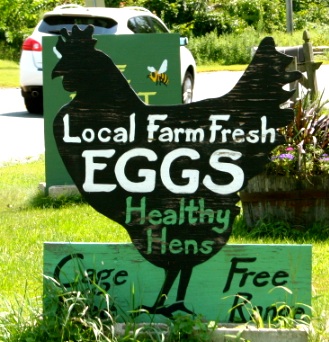 Get inspired for your garden; it is waiting under all the snow. CT NOFA's winter conference is Saturday, March 7, at Western Connecticut State University's Midtown Campus, 181 White St., Danbury. Hours are 8:30 a.m. to 5 p.m.
The 15th Annual Lowell Winter Fest has been moved to March 13 and March 14 – to celebrate the end of winter (it will happen). More details about this family fun event at www.lowell.org/Pages/Winterfest.aspx.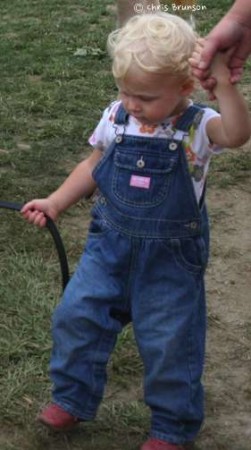 Going places, doing things, learning all the way. More events to get you and your family going – and out of the house – on our Let's Go Ag Events page. Wear boots. Bring a spare pair of shoes and extra socks. Mud season will alternate with snow and slush. It's March.
A blog worth reading about a family and their critters in the Blue Ridge Mountains – Two Bears Farm – look in the recipe section for a story about "Amazing Orange Juice Bread" or "Red Velvet Brownies with Cream Cheese Frosting". Or simply read through family goings-on with animals and lots of heart. Very enjoyable.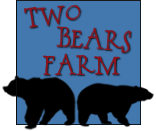 Farmers marKIDS days is a free, downloadable project-based curriculum designed to teach children about the business of food. A guide even helps them organize their own produce stand, including downloadable graphics. The Recipe for Success Foundation is behind efforts to "celebrate and showcase the efforts of our young agricultural entrepreneurs" – and lists other events and ways to help you bring it home. "We envision a world where healthy eating is the norm and a culture where nutritious food is shared, appreciated, and celebrated" is part of their overall mission statement. Here is the link to their site for other ways to partner with the work they do.
A year-round indoor farm market/shop is located at 35 Oakland St., Manchester, part of the farmer-owned cooperative known as the Central CT Co-op. Here's a link to their
Facebook
page to see some of what the local goods and fresh produce they stock. Or visit and walk around – it's a cross between a farm stand and a farmers' market/feed store.
As a 10 percent pledge partner, we'd like to keep spreading the word to connect people to great sources – a story about the effort and the people behind it is linked to the logo right here.
According to the Institute for Local Self-Reliance and Sustainable Connections, several studies have shown that when you buy from an independent, locally-owned business, rather than a nationally owned businesses, significantly more of your money is used to make purchases from other local businesses, service providers and farms — continuing to strengthen the economic base of the community. Don't believe it? There's a variety of economic impact studies that shed light on how spending local can generate a premium in wealth added to the community and tax base. Local businesses are owned by people who live in the community, are less likely to leave, and are more invested in the community's future.
Yes, sir-ee bob. A growing body of economic research shows that in an increasingly homogenized world, entrepreneurs and skilled workers are more likely to invest and settle in communities that preserve their one-of-a-kind businesses and distinctive character.
CitySeed's indoor winter market keeps on going weekly until April, Saturdays, 10 a.m. to 2 p.m. at a new location: Metropolitan Business Academy, 115 Water St. (corner of Water and Brewery Streets).
Bishop's Farm Market and Winery, on the Boston Post Road, Guilford, offers fresh produce, gift baskets, pick your own and seasonal goods, a fully-stocked grocery, specialty products, sweet apple (and pear) cider, delectable pies, breads, muffins, cookies, fudge – apple cider donuts – much more. On-site bakery. Gourmet food and a wide selection of spices and oils. Alpaca yarn, special events. Gift baskets, corporate gifts, kettle corn or dried fruit/nut tins. Bishop's is a hub for foods produced in the area and region. You can also purchase wine made from their fruits and farms in the state seven days a week. Tours of the winery on Saturdays, open to the public.
Of special interest: Check out events on the Bishop's
calendar
which lists all sorts of offerings. Regular tasting fee, $7.50 (sometimes free at special events) and the wine bar is open year round, Monday to Saturday 10 a.m. to 6:30 p.m.; Sunday 10 a.m. to 5:30 p.m.
Did you know? The Northeast Organic Farming Association (NOFA) is an affiliation of seven state chapters: Connecticut, Massachusetts, New Hampshire, New Jersey, New York, Rhode Island and Vermont. The NOFA Interstate Council provides coordination between the chapters, conducts an annual conference and acts as an umbrella organization for projects. Each of the seven state chapters host workshops, farm tours, and serve farmers, gardeners, consumers, land care professionals.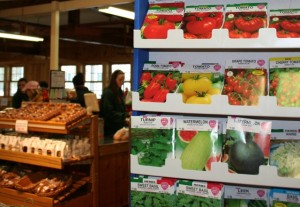 "A farm includes the passion of the farmer's heart, the interest of the farm's customers, the biological activity in the soil, the pleasantness of the air about the farm — it's everything touching, emanating from, and supplying that piece of landscape. A farm is virtually a living organism. The tragedy of our time is that cultural philosophies and market realities are squeezing life's vitality out of most farms. And that is why the average farmer is now 60 years old."
― Joel Salatin, Everything I Want to Do Is Illegal: War Stories from the Local Food Front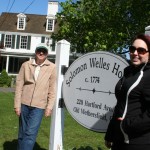 Built in 1774, the Solomon Welles House (two-story white structure with black shutters, located near the DMV and Wethersfield Cove) is where the vendors of the Wethersfield Farmers Market set up each spring-summer-early autumn. But did you know it is owned by the town and was once home of the state prison warden (that chapter of its history can be seen at the Keeney Memorial site here). Take a look inside at this link to a gallery of images produced by the historic town.
Grab an unforgettable grinder to go at G. M. Thompson, include some chips, bring water, and make a short jaunt to the University of Connecticut at Storrs where a number of livestock barns are open to the public. Have a picnic lunch or walk the campus or Horsebarn Hill. Beautiful every season of the year.

There's also a marvelous independent bookstore – the
UConn Co-op
– and a network of hiking trails nearby. The history of the G.M. Thompson building is also interesting. The northeast front corner is the original part of the store and the section to the very back (where the meat counter and office are) served as a post office stood for about 25 years until it was moved across the street in 1937. That's just part of life at G.M.Thompson and Sons Feed, located at the railroad tracks in Mansfield Depot.
Logee's greenhouses and retail store in Danielson (Connecticut) is paradise for anyone who loves growing things. Don't miss seeing the Ponderosa lemon tree – it has been growing there since 1900. Inhale the humid and sometimes scented air inside the five greenhouses. The staff here knows plants – and if you love begonias, you will be in heaven. The beauty of the Rex begonias – takes a closer look at one leaf – spectacular. Orchids, jasmine, succulents; take a drive and go see the wonders of the plant world available to take home and enjoy, or give as a gift.

"If you think in terms of a year, plant a seed; if in terms of ten years, plant trees; if in terms of 100 years, teach the people." – Confucius
Billings Forge Farmers Market is now inside the studio for winter market, 11 a.m. to 2 p.m. Storrs Farmers Market, Saturdays (biweekly); see this market link for information.