One Hot Tamale is a 9-year-old registered Morgan mare who stands 14 hands tall.


"While at UConn, Tamale has been through our training program, lesson program, and breeding program. She has a naturally high head set and has won blue ribbons as a hunter pleasure horse. This stunning young mare has also been broke to drive through our training program. While in our breeding program at UConn, Tamale has given us two beautiful foals, a colt and a filly. An intermediate rider with soft hands would be best suited for this mare." She's priced at $3,000. The University of Connecticut Fall 2014 horse sale list is now available on the ANSC website, linked here.

Thoroughbred, Quarter horses, Oldenburg, and Morgans are currently for sale; contact John Bennett, UConn horse unit manager, or Kathy Pelletier, assistant manager, at (860) 486-2034 for more information.
Horses, for me, are the original all-terrain exploration transportation. Curious deer will walk right by; odd things will catch the eye from the vantage point higher up. Most horses are quite amiable to wait awhile so you can have a better look. However, shoe leather works well to go find things out in more populated areas.
Witch hazel is in "bloom" this time of year. Look for a shrub-like tree with wiry yellowish blossoms. It was once used for medicinal purposes by American Indians and is still harvested commercially in New England as extract has strong anti-oxidant and astringent properties.
Native Americans came to mind recently on a walk by a river. Recent rains churned all sorts of odd things. Evidence of the past came to light when what looked like a stone point turned up on a sandbar. The muddy bit of rock was placed in a pocket for safekeeping. It almost went into the wash, but during transport the mud fell away to reveal a stone implement. Someone
made
this. All that separates us is time.
The name "Coginchaug" is said to be the local Native American term that means "The Great Swamp" – a good description of the meadows and waters flowing through the valley of Durham, Middlefield, Middletown south to Guilford.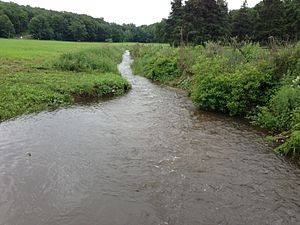 The fertile meadows provided much hay for livestock not so long ago. The shoes worn for harvest time were like mud boots for the teams of oxen or horses; the purpose was to prevent hooves from sinking into the soft (at times, liquid) earth. Always thought this an ingenious solution to get the work done.

Not far from the expansive meadows and river is a place called Indian Hill.


"Sowheag, leader of the Wangunks, could see for miles, observing the round-topped wigwams of his people in small settlements on both sides of the Connecticut River. The Wangunks called this area Mattabeseck and here they grew corn, beans and sunflowers; fished; and hunted deer and smaller game. About 1639, Sowheag and his people built a fortification on this hill, perhaps as a defense against other Native American peoples, perhaps also as a caution against English settlers who were moving steadily into Connecticut." It's now a cemetery, peaceful and quiet. The views of the surrounding landscape are breathtaking and there's much human history still to be found here.
It is believed that the Post Road between Boston and New York closely follows an old Indian trail. Footpaths were the main mode of travel to and from their favorite hunting and fishing places and these changed according to the seasons. Here is a map link to see some of those routes – for those familiar with the highways of today, compare the 1625 Connecticut map (Spiess 1933) on this fascinating report of Connecticut Indian Demographics at European Contact by Jim Trocchi to your modern travels.
For those who'd like to learn more, the Digging Into The Past exhibit at the Institute for American Indian Studies helps visitors learn about several of the most important archaeological sites in Connecticut. Find it at 38 Curtis Rd., Washington, Conn. or call (860) 868-0518.

"The Templeton Site is the oldest site in the state, dating to over 10,000 years ago. It was a stone tool maunfacturing site used only for a short period of time. However, the presence of red oak, white oak and cedar charcoal completely changed the long-held perception that Connecticut was an open grassland tundra during that time period; those types of trees grow in dense forests. The LeBeau Fishing Camp and Weir Site is situated along the east bank of the Quinebaug River in southwestern Killingly, and was used intermittently over thousands of years beginning around 8,000 years ago. . . The Tubbs Shell Heap is located in Niantic, Connecticut and was the location of a settlement placed to best use the marine resources. Included among the 1500s-era features were the remains of several fire, storage and refuse pits. The lime from the shells in these refuse pits preserved many of the organic artifacts that would otherwise have decomposed, providing valuable clues to the activity at the site."

Remember, while out riding or walking to be mindful of hunting season and dress appropriately with blaze orange if on state land where it is permitted. For those who love to ride on horseback, check out the work of the Bridle Path Conservancy, a non-profit group dedicated to the "preservation, enhancement and acquisition of multi-purpose, passive-use, recreational trails on public and private land in Connecticut and southern New England. While the Conservancy was founded by equestrian enthusiasts, we seek to support all open space and trail initiatives, not just those used by horses and their riders. Bridle paths have many uses including dog walking, mountain biking, and general hiking.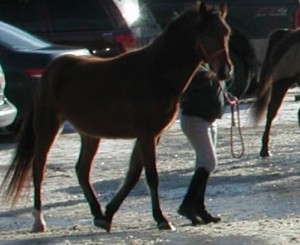 The Bridle Path Conservancy partners with the Lower Connecticut River Valley Horsemen's Club, the Connecticut Forest & Park Association and the New England Mountain Bike Association to maintain this multipurpose passive-use trail.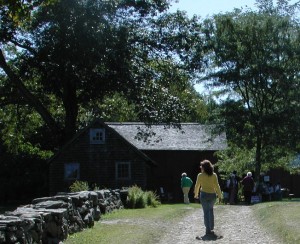 By managing, educating and cooperating with others to create opportunities to facilitate and preserve equestrian activities that complement the environment, the Conservancy strives to keep recreational land available for present and future generations to enjoy."
Their work includes the Quinimay Trail is located in Cockaponset State Forest and extends through the towns of Deep River, Killingworth, Westbrook, Chester and Higganum.
Here is the link to maps and how to support their efforts. The Connecticut Horse Council is another group with a comprehensive site that lists resources and references helpful to those who love equines – and the humans who are courteous and share trails so all may continue to enjoy them.