Editor's note: As the March winds blow, let's revisit a summer's day at a place where questions are encouraged, world-class scientists can be met face to face by all those curious about research and how what is learned helps all. Here's a look at a field trip to summer's lushness, a smorgasbord of life at the annual Connecticut Agricultural Experiment Station (CAES) Plant Science Day on the 75-acre Lockwood Farm in Hamden. Story originally published Dec. 12, 2014.
Stand on earth, inhale the air, remember that your human form is (more or less) is composed of 50 to 75 percent water. Everything re-used and endlessly recycled, moving from one form to another. Water. Earth. Life.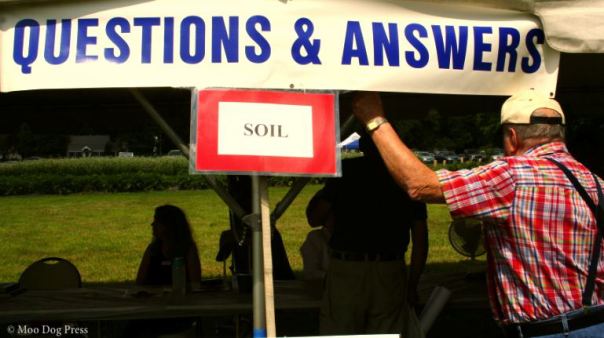 "To put science to work for society, The Connecticut Agricultural General Assembly chartered The Station to investigate plants and their pests, insects, soil, and water. Inspired by Samuel W. Johnson, professor of agricultural chemistry at Yale University, and established in 1875, The Connecticut Agricultural Experiment Station is the first in America and remains a separate state agency. Initially located at Wesleyan University and later at Yale, The Station moved to its current site in 1882."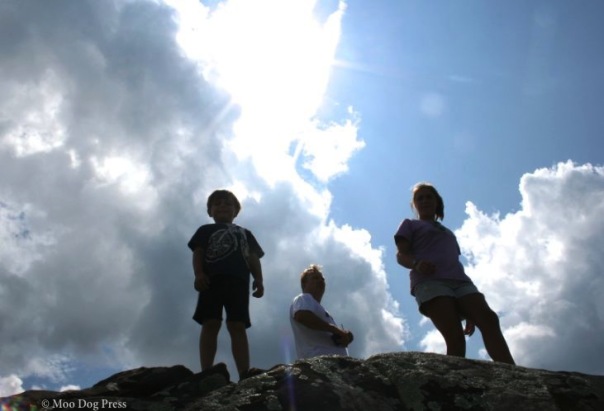 The Wisconsin Glacier sculpted the land of this farm more than 10,000 years ago and left behind a huge glacial erratic known as "The Rock" plus "moderately well-drained Watchaug loam and shallow-to-bedrock Sunderland fine sandy loam" to serve as an outdoor laboratory. Experiment Station scientists learn "how to manage plant pathogens and insect pests of agricultural crops and trees. Scientists also evaluate new crops for Connecticut, test fruits and vegetables, and evaluate crops for biofuel."
In the Connecticut River Valley, fertile loamy good soil underfoot may be taken for granted, but having lived elsewhere in the United States, will attest to the fact that not all soils are created equal.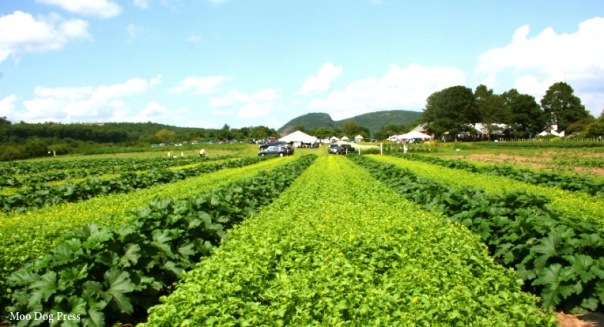 By the way, the USDA Natural Resources Conservation Service (NRCS) is America's agency for soil conservation, classification and studies and was born amid the wake-up call that was the Dust Bowl era of the 1930s – caused by a combination of over-cultivation farming methods, drought, and record-breaking temperatures. Much has been learned since them, but we all have a ways to go to work with not against Mother Nature.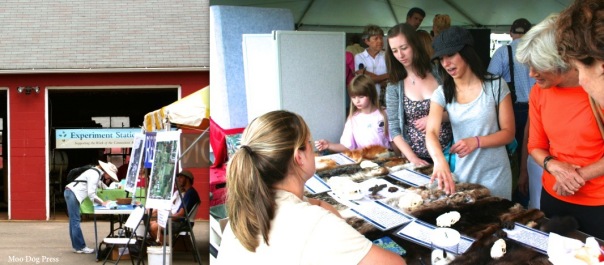 Lockwood Farm has a bird and butterfly garden that is accessible to all and is a popular spot for visitors. On the first Wednesday in August each year, citizens can meet scientists and staff and learn about experiments at Plant Science Day, the station's annual open house. Nearly every age from newborn to well-seasoned may be seen interacting with scientists and staff – an amazing opportunity for access. Hands-on science includes plenty of fun – no one who mixes up goop with their bare hands will ever forget how simple ingredients combine to create something a free-flowing solid something else.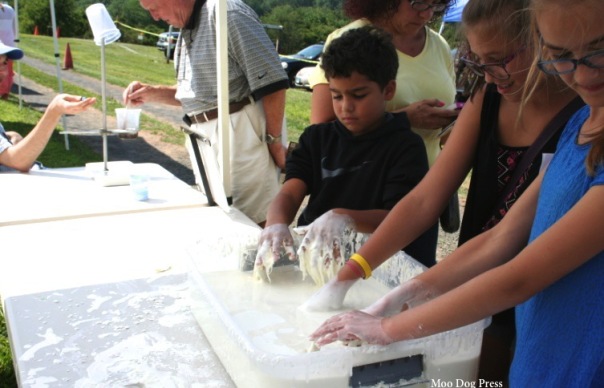 Ice cream comes scooped up and served free (donations only) were a delicious tasty treat produced by local farms known collectively as The Farmer's Cow.
From learning about invasive insects to see beautiful displays of social insects plus working honeybee hives – the expansive acres of the farm allowed for interaction with vendors about local products, courses, hikes, groups, clubs, associations – programs for schools and a wealth of sources.
The pollinators garden pathways provided a serene retreat to walk or find a bench to watch bees and butterflies and other pollinators do their work – also a place for inspiration for a garden of your own. The scientific studies are life in progress – grape cultivars, a grove of chestnuts, fig trees in pots. While it may not be possible to absorb a percent of all that is on display and growing, a visit is sure to provide a glimpse of what goes on here year round.
Research is a constant. The Center for Nanotechnology and Agricultural Pathogens Suppression (CeNAPS) is the product of a USDA AFRI Foundational Program Grant Award in the Agriculture Systems and Technology Program Area; specifically: "Nanotechnology for Agricultural and Food Systems." The grant title is "Nanoscale elements suppress plant disease, enhance micronutrient use efficiency, and increase crop yield." The project dates are March 1, 2016 to Feb. 28, 2019.
The primary goal is to use "nanoscale elements as a comprehensive agricultural amendment strategy to suppress crop disease, improve nutritional content, and enhance overall yield. Soil pathogens significantly limit agricultural production, reducing crop yield by 10-20% and resulting in billions of dollars in annual losses."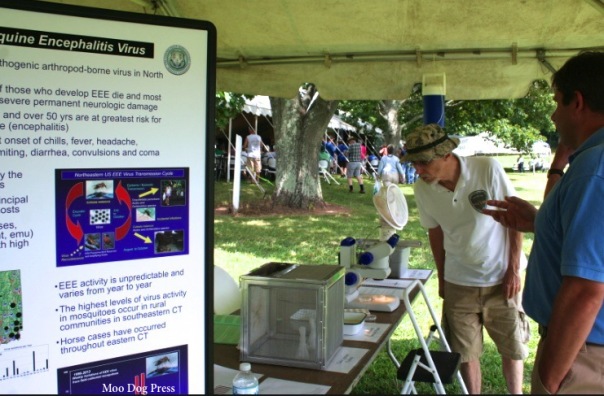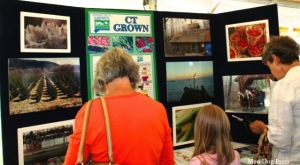 Good people to know.
Wikipedia: "The Connecticut Agricultural Experiment Station (CAES) is the Connecticut state government's agricultural experiment station, a state government component that engages in scientific research and public outreach in agriculture and related fields. It is the oldest state experiment station in the United States, having been founded in 1875. Its official mission is to "develop, advance, and disseminate scientific knowledge, improve agricultural productivity and environmental quality, protect plants, and enhance human health and well-being through research for the benefit of Connecticut residents and the nation." The station operates a main research campus in New Haven, a research farm in Hamden, a satellite research facility and farm in Windsor, and a research farm in Griswold."

Note: The Connecticut Ag Experiment Station Associates founded in 1990 supports the work of the CAES and make its research programs and many services better known. The associates assist at such station events as the annual Plant Science Day and Spring Open House. They also organize informative field trips and produce a news bulletin covering the station's scientific activities. New members are always welcome. ESA Website www.agstationfriends.org; Facebook at www.facebook.com/ExperimentStationAssociates. For more information, contact Anne Rowlands, president, Experiment Station Associates, at pres@agstationfriends.org or info@agstationfriends.org.