"Your curiosity and desire to learn things on your own terms is really a key to success." – Jeffrey R. Immelt, CEO, GE
Is an inventor an entrepreneur? Not always. The journey on a road from idea to commercial markets, then sustainable growth is not for the faint of heart. Pitfalls, roadblocks, challenges along the way will stop many in their tracks.
Some, however, find a way or make one. They keep going, with a restless "hunt" instinct to create solutions, make things. That drive is hardwired into the DNA of humans as a species. To collect, find patterns, search and ask questions.
Our journey continues for threads of information and resources about a long-ago legend of a man and his tree. That quest led to a bell at the New York Stock Exchange (see below) after a visit to Chatham Historical Society Museum & Schoolhouse.
Which is something to see.
Especially with knowledgeable people who know the stories contained within these objects. Innovation takes many forms. Launching a business. Establishing a brand. To learn from the past and admire obstacles surmounted for achievement, a life-long pursuit.
The village of East Hampton is known as "Belltown" for a good reason – it was the center of the U.S. bell-making industry, once home to more than 30 bell-related companies. Bevin Brothers, the oldest and most well-known began in 1830 – and is the only one remaining. The company has been featured in Inc. Magazine, a story in a "tour of small businesses across the country that highlights the imagination, diversity, and resilience of American enterprise."
Bevins makes cowbells to handbells, yacht bells, gongs, ornament bells; bells for the boxing ring, custom designs. Matt Bevin is president, he's the 6th generation. The company web site is fun and informative. (For instance, how to train your pet with a bell. And that the bell that rings when Zuzu Bailey comments "Look Daddy, the teacher says, every time a bell rings an angel gets his wings" in "It's A Wonderful Life" is a Bevins Bell.)
The Chatham Historical Society is a showcase array of designs and objects – because someone thought them up, then figured out a way to bring each into reality. Three buildings and collections, Bevins bells and bell toys are exceptional. Open to the public the first Sunday of each month, 2 to 4 p.m.; Sandy Doran, president, (860) 267-8953.
So what is the reason for the name Chatham in a place most know as East Hampton?

"In 1767, the community was separated from Middletown incorporated by the Connecticut General Assembly as the township of Chatham, named after Chatham in England, due to the important shipbuilding industries that both places had in common. An iron forge at the outlet of Lake Pocotopaug was one of the earliest in the state. The forge supplied the local needs and the shipbuilding industry on the banks of the Connecticut River…" – Wikipedia
Blacksmiths solve problems by applying fire and pressure to metal. Using wood to cross a river can be seen in the nearby Comstock Bridge built in 1791. This covered bridge spans the Salmon River and originally was the way to travel from East Hampton to Colchester – or the reverse. Nowadays, it is a scenic attraction and can be toured on foot. There is a small parking area and informational board about the inventor and design of the bridge. There are also blue-blazed trails nearby – but that is another story.
As bridge historian Eric DeLony wrote, "The Howe truss may be the closest that wooden-bridge design ever came to perfection. For simplicity of construction, rapidity of erection, and ease of replacing parts, it stands without rival" (DeLony 1994:11). http://www.tn.gov/tdot/article/bridges-historybridges#sthash.I35YS6YB.dpuf
Another inventor came up with an idea and plan to make talking with others from a distance possible; much has happened since. The telephone, an incredible invention, has mutated into all sorts of shapes and sizes. And toys reflect culture as children play to mirror behavior of adults around them.
So how important is design? Just consider the progression of a mobile phone from a weighty and cumbersome brick-like appliance that sported a stem antennae to the sleek and handsome iPhone, a mobile computing and communication wonder. Touch, tap, pinch, share; take images and videos. Find information, create and send data. Nearly endless capabilities when partnered with apps that people created and designed – such a powerful instrument of change.
But back to bells and business. The instantly recognizable clang, clang, clang of the New York Stock Exchange (NYSE) is a bell. A very special bell. Not made by Bevins, but indeed made in Connecticut – by the G. S. Edwards Company of Norwalk.
"When the NYSE officials explained that they wanted to purchase a new bell, measuring 18 inches in diameter and matching the old, representatives of the Edwards Company were astonished. It seems that neither Edwards nor any other company, makes bells anywhere near that large — or loud — today' according to the history of the bell on the NYSE official site.
"Edwards agreed to make a new bell from scratch, bringing former employees out of retirement to handle the job. Sound measurements were taken, and the tone of the bell was matched to the NYSE's existing bells."
The tradition started with a Chinese gong, then an electrified bell, today the trademarked NYSE logo includes two words -"Ring True" – it's the sound of free enterprise.
Branding. Design. Manufacturing. Old ways, new ways. Tradition and innovation intertwine. Unlikely objects spark connections between life and business, what people do and have done.
Design applies to everything manufactured, mechanical, biological. Form follows function in the natural world, which selects key traits and mechanisms that work best over time. Change is part of life. Humans are conscious of past and present; for other organisms there is only right now.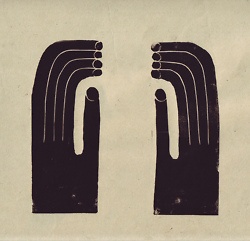 "Capital is being superseded by creativity and the ability to innovate — and therefore by human talents — as the most important factors of production. If talent is becoming the decisive competitive factor, we can be confident that capitalism is being replaced by 'talentism'… – Klaus Schwab, founder of the World Economic Forum
The first human technologies were fire and tools.
As the world transforms, observations about what is happening have been compiled into an amazing report by John Maeda (Google defines him as "John Maeda is an American executive, designer, technologist. His work explores the area where business, design, and technology merge.") and 800-plus designers and design founders, managers, executives, agency leaders, individual contributors.
It's an idea sparker.
"The best decisions are often made by diverse groups of people. Saying or hearing these words is magic: That's really interesting, I had never thought of it that way before. Thank you."

– Mary Meeker, founder of Internet Trends Report and KPCB partner
The 2017 Design in Tech Report frames "computational design as a key driver of accelerated growth, with inclusive cultures @work as vital for tech businesses hoping to lead in design."
Have a look.

Editor's note: The quest mentioned above for man and tree continues; more is being learned and will be compiled.