Curiosity leads to places and people. Like a walk through time, tracking down one location can lead to discovery at several stops along the route.
Learning about an old tree on a photo shoot sparked the desire to see the land where a human story took place and where a massive tree once grew.
From Historic Towns of the Connecticut River Valley: "The last of the Tribe of Mattabesett was Mamoosun, a high-spirited old man, whose faithfulness to his tribe and its traditions, was inspiring. Where Mamoosun lived is not positively known, but that he made annual visits to Middletown each autumn, for the purpose of paying respect to the memory and the greatness of his tribe, is a matter of history. He spent whole days in the Indian burial ground, near Newfield, mourning over the past glory of the dead who were buried there.
"On these annual pilgrimages the old Indian seemed to live more in the spirit than in the flesh, and there can be no doubt that his mind was in an exalted state as it dwelt on the past. During this period be shunned mankind and spent his nights in the hollow of a gigantic sycamore, of great age, that was known for many generations as Mamoosun's tree.
Mamoosun's pilgrimages began before, and continued for several years after, 1720.
"The white settlers of Middletown honored and respected the dignified, sad old man who alone of all his tribe still lived. A Mr. Gilbert, who owned the farm upon which the Indian burial ground was situated, was most friendly and hospitable to Mamoosun who, after his days of mourning and religious duties were finished, would go to Mr. Gilbert's home as his guest.
"Mamoosun dreaded above all things that the graves of his dead should be disturbed by the plow and harrow. Mr. Gilbert promised him, that so long as he lived the field should not be cultivated and the promise was faithfully kept for several years after the visits of the old Indian had ceased."
(Did the people who came afterwards honor this promise?)
The following reference is from the collections of Middlesex County Historical Society: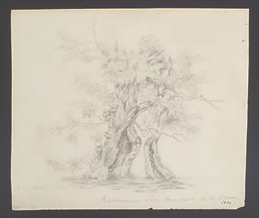 Drawing of Mamoosan's Tree by Frances E. Oliver, 1844
"This huge sycamore tree served as shelter for Mamoosan ("Son of the Moose") during the mid-1700s. As the Wangunks' lands and opportunities here dwindled, many of them, including Mamoosan, moved to northern New York. They left behind the graves of their ancestors in a burying ground just west of what is now Newfield Street, nearly to Cromwell. Mamoosan journeyed back to Middletown every autumn, beginning about 1750, to visit his ancestors' graves. The great sycamore stood nearby, and at night Mamoosan slept inside its hollow trunk. In 1844, a Middletown woman named Frances Oliver sketched the tree – then 19 feet around – a few years before it came down."
Frances Oliver, thank you for such artistry for capturing this stately old tree on paper.
Nineteen feet around, that tree was. On the trek to try to find out more information, other notable trees have been found and photographed. Connecticut is fortunate indeed to have such living treasures – and an ongoing project that documents and tracks trees in the state, called the Connecticut Notable Trees Project.
"We all share a concern for preserving this cultural landscape, the things that give our state its unique character. Trees are symbolic of our relationship with nature, a touchstone to the past and future.
"Established in 1985, the Notable Trees Project collects and distributes information about Connecticut's largest and most historic trees, both native and introduced. By educating our fellow citizens about the importance of our state's natural heritage we work to preserve it. It is a volunteer enterprise sponsored by the Connecticut Botanical Society, The Connecticut College Arboretum, and the Connecticut Urban Forest Council. A book by Glenn Dreyer, "Connecticut's Notable Trees," was published by the Connecticut Botanical Society and the Covered Bridge Press in 1989, 1990 and 1998. The later editions were the same as the original, except that they were perfect bound and included updated Champion Tree Lists. Most libraries in the state have copies of the book, which is currently out of print.
"A computer database is maintained at the Connecticut College Arboretum that includes records of 4,048 individual trees in the state. Information for each tree includes size, location, ownership, and condition. The champion tree lists are derived from this database. Exact locations of the trees are not always given because we do not always have permission from owners of trees on private property to publish their locations. In the future, we hope to develop lists that will include locations of trees growing on land open to the public."
Editor's note: Stay tuned as the journey continues to find the original site of the tree and anything more about Mamooson.
Meanwhile, interesting objects, road markers – and a story of a man with a mission sparked and fueled by hearing Jimmie Rodgers's country music. Toshio Hirano was from Japan, but propelled by music, he wanted to see the land where it originated.
The stunning part is that he actually picked up his life, arrived in Washington, D.C., U.S.A. – and on a bicycle, pedaled his way across land where his curiosity and the lyrics he loved had led him – all this in the 1970s.

"When it's peach pickin' time in Georgia
Apple pickin' time in Tennessee
Cotton pickin' time in Mississippi
Everybody picks on me…"
"From Kingston Trio to bluegrass to Jimmie Rodgers – just playing the music over in Japan wasn't enough for me – I wanted to feel the land – see the land – where the sound came from southern Appalachia. So how do I do it? Walking is best, but taking too long. I didn't have much time. Oh there is a bicycle, I love riding a bicycle. Why not?"
The film opens with the following quote:
"If you don't live it, it won't come out your horn."

– Charlie Parker
About the award-winning documentary by Oscar Bucher:
"Toshio Hirano was born in Tokyo, Japan in the 1950s. As a teenager he became interested in bluegrass and country music and later became inspired by the Mississippi legend, Jimmie Rodgers. Toshio learned to play banjo, guitar and mandolin and continued playing music throughout college, after which he immigrated to the USA to pursue his love of the music. After first visiting the Appalachia region—the heartland of Bluegrass music—he then lived in Atlanta, Nashville, Minneapolis and Austin, Texas. San Francisco has been his home since 1986 and he plays regularly in cafes and bars around town. The deep romantic nature of country music—tales of trains and cowboys and broken hearts—continues to sustain Toshio's imagination and art.
"He also relates the moment he discovered Jimmie Rodgers – an amazing, transcendent epiphany that would forever change his life."
From a story in the San Francisco Chronicle by Joel Selvin:
"Smitten by American folk music as a teenager growing up in Tokyo, Hirano came to this country to visit the land of the music he loved. He went straight to Appalachia after he graduated from college in 1974 and took locals by surprise, tooling through West Virginia coal mining towns on a bicycle, a mandolin on his back, looking for the ancestral home of bluegrass, long before multiculturalism reached the backwoods. He laughs at the memory of being the first Asian face many of the small town children had ever seen."
(Is this not amazing for a human being to pick up his life, and go see what he wanted to know about? Love the dedication and sheer zest for living shown by Hirano – and the life that resulted from him doing so.)

"Something hidden. Go and find it." – Rudyard Kipling said that.
There's always more to learn. Here's to the dedication and joy along the way in the finding out, asking questions, meeting people, and the writing of what is found.